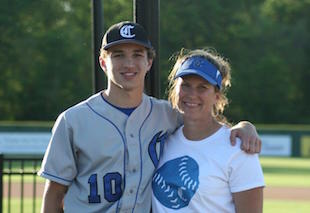 Today our fun-loving support specialist and testing genius, Kirsten, reflects on the beauty and chaos of being a busy sports mom of three. She shares: 
"I grew up playing sports. My mother was an Olympic athlete and my brother, sister and I tried hard (although unsuccessfully) to follow in her footsteps. When my sports career ended, I looked forward to the day I could watch my children live out their dreams on the field or in the pool. 
Yes, I was the crazy mom (AKA "psycho" mom as my husband calls me) that may have exaggerated their oldest child's age so they could start baseball a year early. Why should he wait – I was ready to get started. I may have also signed him up for travel all-star t-ball. I know t-ball can get a little boring – but what an honor to be chosen.
By the time all 3 of my children were filling their spare time with travel hockey, baseball, swim team and softball, I was beginning to wonder if I was going to survive this sports mom role. One evening, when I passed my husband as he was coming home from work and I was leaving to carpool, he yelled out, "What's for dinner?  Is it Cheetos again tonight?" It was then I realized I had achieved a new level of Crazy Sports Mom. 
As my children have gotten a little older, they've focused in on the sports they love. I have tried to find some organization and peace in my life. It is hard to come by, but I realize that although my life is crazy and I can spend up to 4 hours a day carpooling between activities, this is something to be cherished. They are growing up so fast. As Trace Adkins says in his song, "You're gonna miss this, you're gonna want this back.  You're gonna wish these days hadn't gone by so fast."
Whether you are just getting started on the sports mom journey, or you are well into the wild ride, SignUpGenius is here to help you navigate. Check out our Sports Resources!