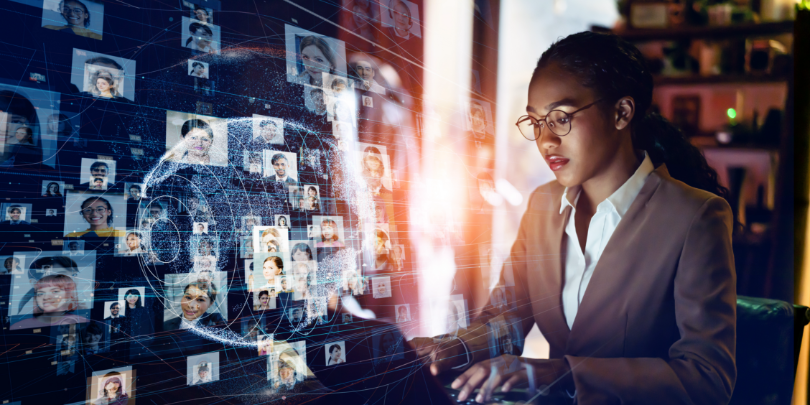 Whether you're part of a Fortune 500 company or a small business, there's a lot of technology tools available to meet your business needs. But finding one that balances ease of use with lots of functionality is difficult.
That's why we've worked to create a simple sign up solution along with several additional features that can be added on. This way, you can leverage our tool as anything from a simple sign up to a completely integrated white-label software solution.
SignUpGenius is a highly flexible tool designed for a range of usages — making it the perfect tool for organizing a variety of groups and events. So, whether you need a tool for booking candidate interviews to coordinating registrations for company training, SignUpGenius offers the flexibility and powerful features to allow you to customize and design the tool to best meet all your registration, sign up and form building needs.
SignUpGenius is powering business sign up and registration efforts — giving companies powerful solutions without the time and cost of developing their own in-house tool. See some of the ways we help businesses organize people and events. 
Coordinate Event Registrations
Events such as conferences, conventions and trade shows require a lot of planning. There are often vendors, attendees and even event staff to coordinate. With an online sign up, you can
create an event registration
and even
attach custom form fields
to build out the registration tool.
Need a space for vendors to sign up as well? Add a slot for vendor registration or create an entirely separate sign up for vendors. Attach our collect money feature to accept payment for vendor fees. With our tabbing feature, you can link the sign ups together into selectable tabs, or with our portal page, you can create an event registration landing page and post various sign up opportunities on the page.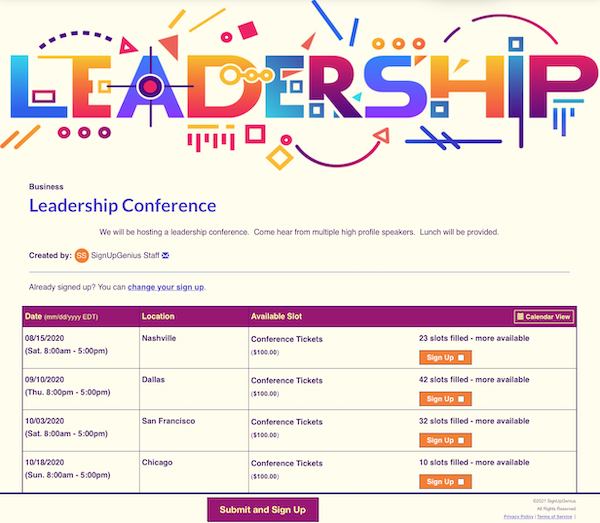 Create Training Registrations
Notifying all staff members about available training and figuring out who can make it for each session can take a lot of time and intraoffice emailing. Eliminate that with an online sign up.
With SignUpGenius, you can create a sign up that shows upcoming training sessions and direct office workers to sign up for the ones they plan to attend. The use of customized reporting can also help you make sure your employees have met their training requirements and signed up for the appropriate courses or sessions in a timely manner.
This is a perfect option for coordinating events such as employee onboarding training or other HR-related trainings and classes. With the sign up, you can limit spots to keep the class size manageable. You can even lock slots to prevent last-minute registrations. This way, you'll know the number of attendees in advance and have time to gather the materials and resources needed to provide for the training.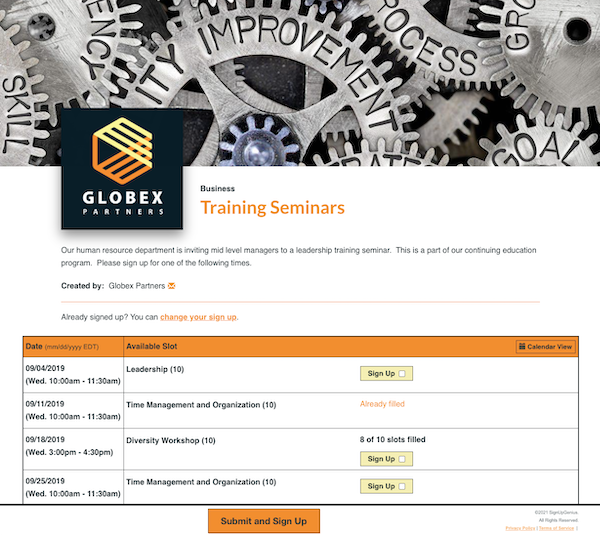 Organize Community Service Projects
If you're planning community service projects, you'll probably need to break your team down into small groups and then assign them to service projects. Better yet, save yourself the hassle of assigning folks to projects and allow them to choose from a list of projects and sign up.
Attach our mapping feature
to each slot to link it to Google Maps. This way, your volunteers can easily get directions for the project location.
In minutes, you can create a sign up with slots for various service projects. Select the maximum number of spots available for each project to keep your group sizes even. From there, you'll be able to view your various groups of volunteers and can communicate with each of these specific project groups regarding the logistics of their project.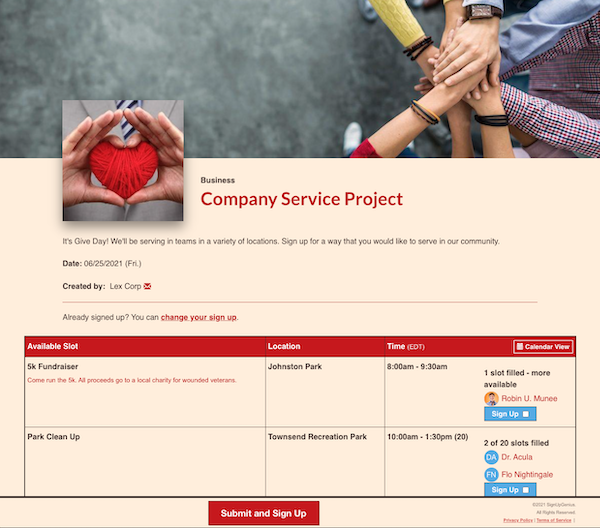 Plan Lunch and Learn Events
A sign up is an easy way to promote lunch and learn events and coordinate registrations. Create a sign up for one lunch and learn or list out all your learning events as individual slots. You can limit the number of people who can sign up for each event to prevent too many people in the conference room. This is also a great way to know which topics are the most popular among employees.
Share the link to the sign up in a company email or post it on an internal company page to make it easy for employees to view and sign up. Genius Tip: Check out these lunch and learn ideas for work.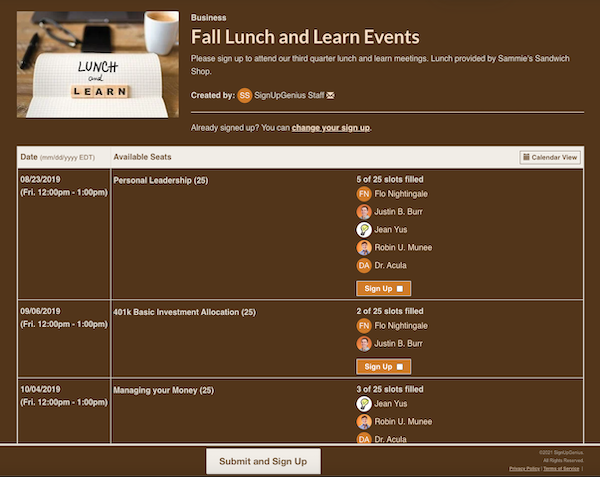 Schedule Team Building Activities
Most company team building events still require some organization. If you have a large team, you'll probably need to break the team down into smaller groups. Then, plan various activities and create slots for employees to self-select from the types of activities available.
For example, if you are coordinating escape room events, you'll need to have groups of 6-8 employees to keep the activity engaging. With an online sign up, you can create slots that allow employees to choose the type of escape room they'd prefer to participate in.
This is a fun and easy way to break your team into groups and to get a headcount on attendance for the event in advance. This way, you can go ahead and either reserve spots or purchase the number of tickets needed before the event takes place.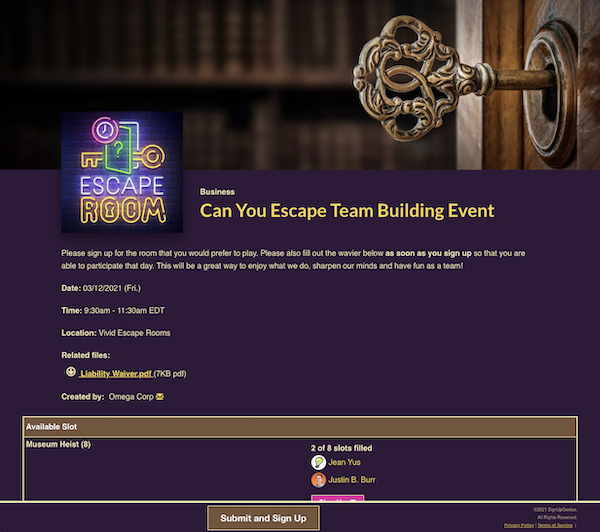 Coordinate Office Potlucks
Office potlucks are a great way to boost employee morale and provide opportunities for people to connect and build deeper relationships in the workplace. Potlucks are also a great opportunity to build upon the company culture and increase the sense of camaraderie. With an online sign up, you can easily create slots for needed food items and invite staff to sign up.
Planning a company holiday party? You can collect RSVPs on the sign up to get a headcount in advance. Attach custom fields to the sign up for participants to select meal preferences or to provide you with other additional information on the sign up. Genius Tip: Try these 35 Easy Potluck Dishes for Work.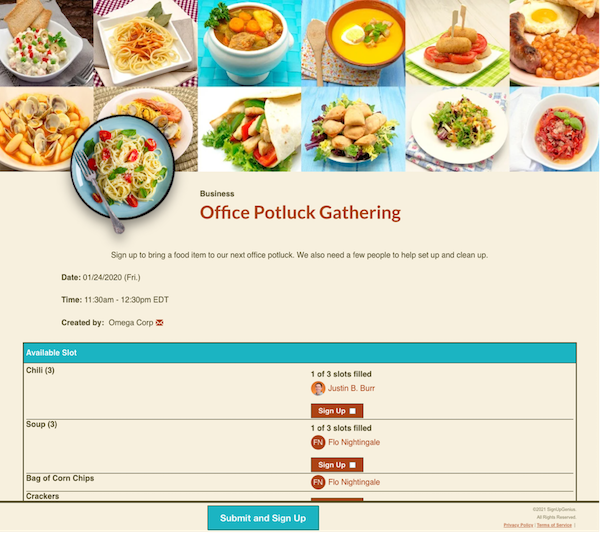 Coordinate Job Interviews
Booking employee interviews can be a logistical challenge because you're coordinating multiple schedules. Simplify job interview booking with an online sign up.
Generate all the dates and times
for interviews on the sign up and invite potential candidates to register for one of the available times that works best for them. This takes the back and forth emailing out of the loop.
Be sure to remove ads from the sign up for a clean professional look. You can also automatically generate custom confirmation and/or reminder emails and communicate additional information about the interview to your potential candidates.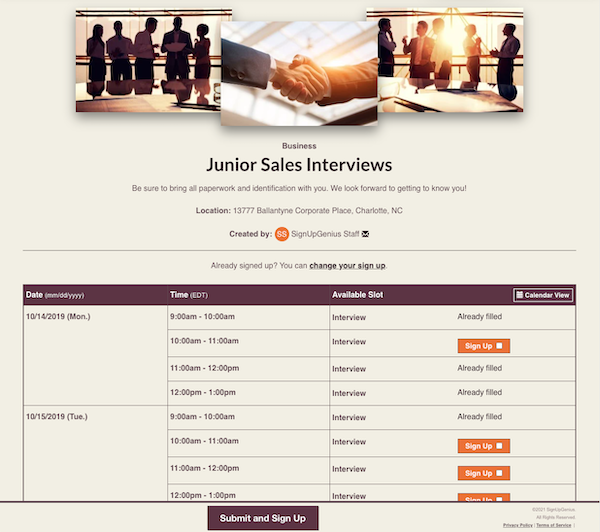 Schedule Client Booking
With an online sign up, you can provide a calendar of available times for appointments and consultations. Simply email the calendar to potential prospects or post the calendar on your website. With our
calendar sync feature
, you can link your sign up with your personal calendar. When someone signs up for a time slot, the item will automatically be added as an appointment on your personal calendar.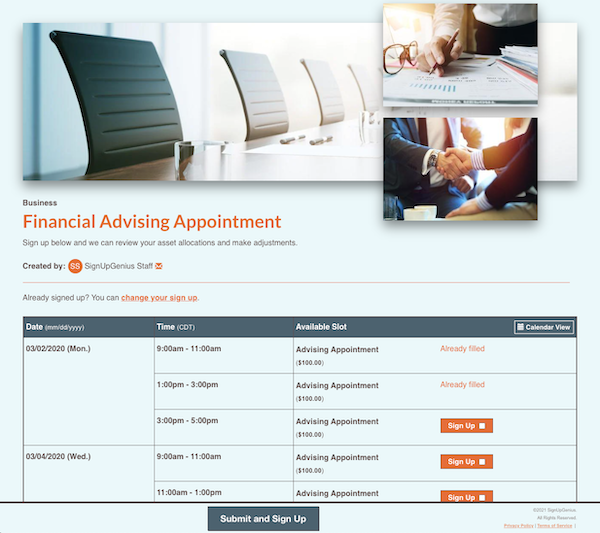 With so many ways to simplify the organizational needs of your business with SignUpGenius, why not get started today?