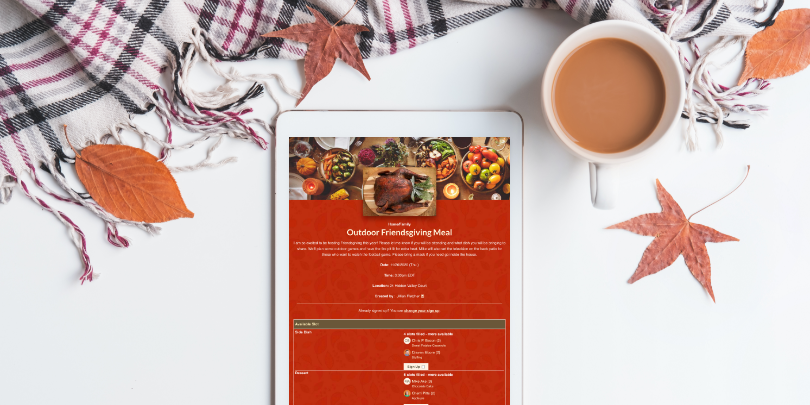 This year, so many fall events look different. But that doesn't mean that you can't get a little creative and still find some ways to organize people and events. This fall is a great opportunity to still gather with the people who matter most or to find ways to make a difference in your community. Here are our top 5 sign ups that you can plan for this fall!
Outdoor Movie Night
Who doesn't love an
outdoor movie night
? With days getting shorter you can host a backyard movie night without keeping folks out too late. Grab a sheet and economical projector and you've got yourself an outdoor movie theater. Add some extra fun with a backyard campfire and roast some marshmallows for smores to serve as your movie snack.
To keep the group size limited, be sure to select an appropriate Number Wanted when creating a slot for those who will attend. Be sure to select a classic family-friendly movie if you are planning an event that will include kids.
Halloween Trunk or Treat Event
Halloween doesn't need to be canceled this year. With a little group organizing, you can rally your neighbors or church and have a fun
socially distant trunk or treat event
. This is a great way to celebrate Halloween and still maintain safe social distancing. You can implement good safety requirements and
attach a file
with guidelines to the sign up. Apps like
Nextdoor
can be helpful for spreading the word or recruiting neighbors to volunteer or participate in the event.
If your event takes place in a parking lot, such as at a school or church, you can limit crowd sizes by creating attendance time slots. Parents can bring children to the event to participate with the time they have signed up for. Use our Quantity Limit tool to prevent people from signing up for more than one slot.
Genius Tip: Hide names on your sign up to maintain privacy and to keep the length of your sign up condensed.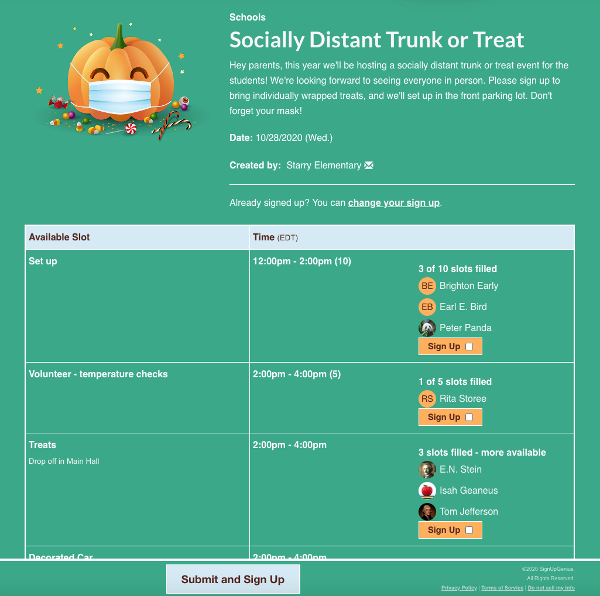 Friendsgiving Meal
Given the concerns of traveling during a pandemic, many people are opting for gathering locally in small groups with friends and neighbors. This year might be the best ever for a
Friendsgiving meal
. If weather permits, you can even make it an outdoor meal. Stoke the backyard fireplace and plan the meal for the warmest part of the day. Plan some
outdoor games
to boost the fun. Either way, a backyard Friendsgiving meal might just be a memorable one.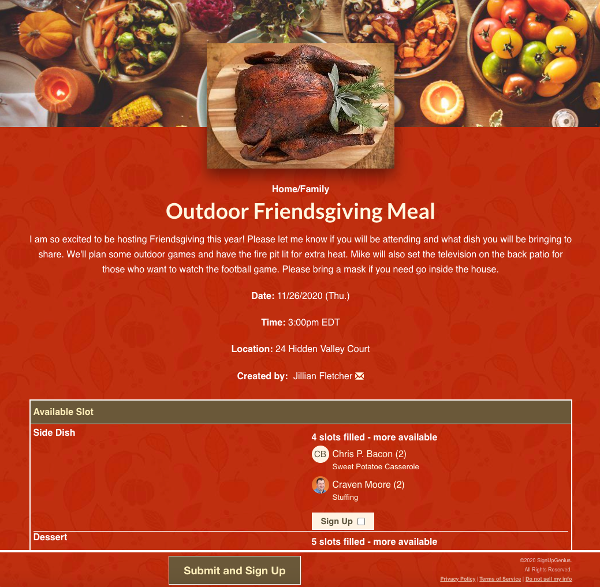 Fall Food Drive
There are a lot of people in need this year. The holidays only highlight the need and put a lot of strain on local food pantries. Planning a
fall food drive
is a great way to rally your community or club to help those who are in need. A simple sign up can organize volunteers and promote the needs to the community. Check out how
one individual used a sign up
to make a big impact for a local nonprofit.
If you are planning a food drive event, it's also a good idea to set up slot to collect monetary donations for purchasing supplies. You can attach our collect money feature and allow people to donate online right on your sign up.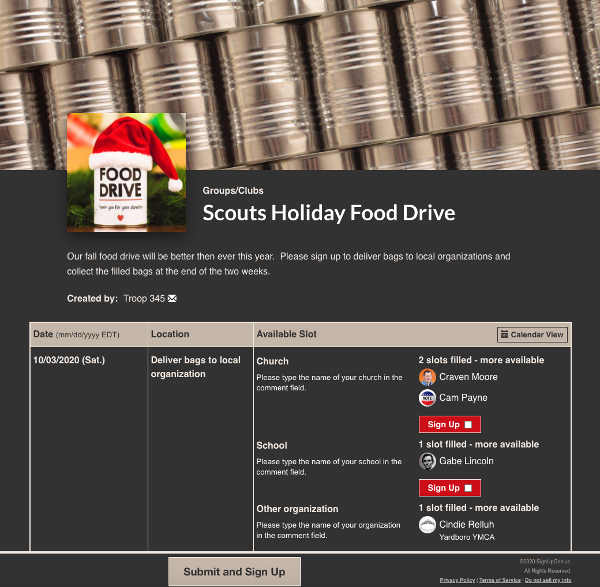 Holiday Toy Drive
A pandemic doesn't have to stop you from ensuring that a child or family has a Merry Christmas. With an online sign up, you can recruit volunteers to adopt a family or donate toys for an
Angel Tree toy drive
. A sign up is an easy way to let people know about giving opportunities and to give them an easy way to participate.
You can share the link to the sign up on social media, a website or email it out to friends. There are a number of ways to spread the word and recruit more people to join.
Genius Tip: Create custom confirmation email messages to provide additional information to participants once they sign up.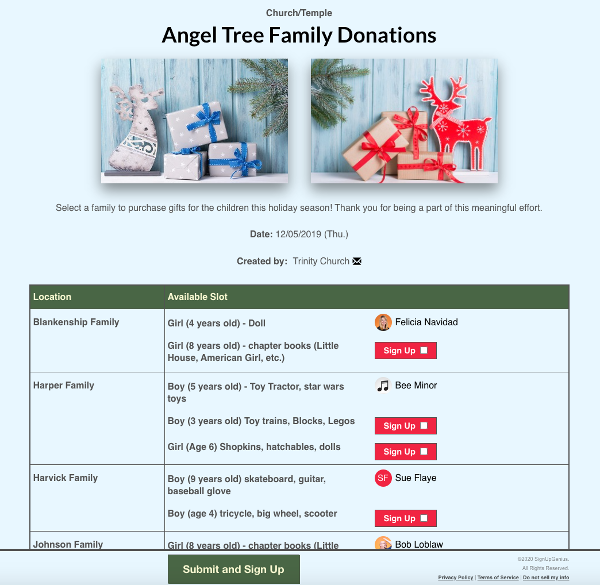 Backyard Bonfire
You don't need a special reason to plan a
backyard bonfire gathering
. Okay, maybe your fire is more of a normally sized fire and not actually a bonfire. In either case, a fire is a great way to gather with friends outdoors and to stay warm.
You can stoke the backyard firepit and organize a book club meeting, a small group Bible study or just a simple gathering with friends. There are so many events that you can plan around a fire this fall and it's a great way to maintain social distancing while still gathering in-person with friends and family.
By the way, here are a few genius resources to help enhance your next group event.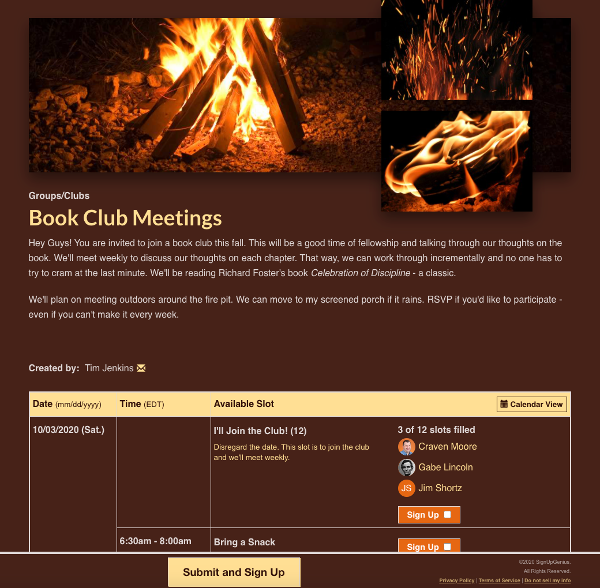 Even though this fall will be different, there are still so many great ways to plan events and organize volunteers with an online sign up. With a little creativity, you can start moving forward by planning small but meaningful events that are socially distant and safe.
So, get the creative juices flowing and find a way to gather locally and safely with the people you love. Happy fall, y'all!