We Have a Winner!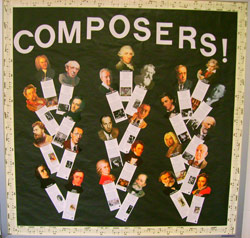 Congratulations to David Barnaba, the winner of our "Back to School" Bulletin Board Contest! Mr. Barnaba's bulletin board, entitled Composers, received 3372 votes and won our $250 grand prize! Mr. Barnaba is a 12th-year, K-6th music teacher in Cabarras County, North Carolina and his whole school rallied behind him in order to come from behind on the last day of voting! Great job!
A very close second place went to Leigh Tinney, a well-loved elementary school teacher for her terrific entry Get Ready for a Colorful Year! Every teacher that submitted an entry will receive a Starbucks gift card.
All of us here at SignUpGenius.com were so excited to see all the creative entries and to have passionate school participation in the voting! It was truly inspiring to see the way these teachers put in the extra effort to challenge and motivate kids to learn! Thanks to everyone who submitted and voted for making this such a fun contest. Make sure you take time to check out all the entries!