Lessons on Work from Sand Castle University
It started on a baking hot summer day in 1977. I was 5. My dad had this group of fraternity brothers from his engineering school that would get together with their families and camp. We'd spend the days at the beach and all the kids would play while the adults caught up.

It just so happened that on that particular weekend in 1977, the campground decided to throw a sand castle building contest. The grand prize? Some popsicles. But that was enough for the competitive, creative and project-focused thirty-something engineering buddies to kick into high gear. Really high gear. What resulted was an impressive prize-winning castle with an extensive system of roads and surrounding communities that covered a good portion of the beach. And the kids? We helped. And of course… got to eat the popsicles.

For the 34 years since, for one weekend each summer, sand castle making has become a bit of an obsession for this little group of families. I missed quite a few years after I got married and moved away from the Midwest, but the last couple years I've been able to take my own kids back and join in the sand fun.
  

A 2011 castle my dad carved. Behind it is a sculpture from the movie "Cars 2" that I worked on with two others.
| | | |
| --- | --- | --- |
| The 2011 sand castle crew. |    | It's great to revisit a part of my childhood and catch up with old friends, but I also realize now that there was a lot more going on than I understood as a kid. In the midst of the sun and sand – my dad and his college buddies were putting on a clinic for their kids and everyone else on the beach… all about hard work. Thirty plus years later, I realize that a great deal of the core philosophies I carry with me everyday as I punch the clock developed their roots on the beaches of Pokagon State Park… in Sand Castle University. Here are a few that come to mind. |
Be a builder.
One year after we had spent numerous hours completing our castle, we ended up seeing some kids stomping all over it. It was a horrifying moment, but my dad pulled us aside and made sure we understood: "Anyone can destroy things. In our family… we build." Now, after putting in years in the work world, I've realized that there are always people that take great joy in being a critic and ripping things apart. The real difference-makers, however, are the people that get their hands dirty and create solutions.
  

A two day project for me and two friends.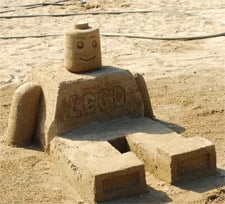 A job well done is its own reward.
We got popsicles that first year. But there were no prizes or payments after that for long hard hours spent working in the sun. In fact, sometimes within an hour of completion, part of the castle or sculpture would cave in and all the work would be ruined. Working with sand teaches you to find the joy in the work itself over the end result. Recently, I helped design an elaborate Internet application for a client. Unfortunately, the leadership of the company changed and it never ended up getting used to its full potential. I had no regrets - because I felt satisfied in having built the best product I could produce.
You'll be surprised at what you can do if you try and don't give up.
It's funny, but each year someone will ask us if we are "professional sand artists." We have to laugh because the truth is, none of us really know what we're doing. It's really all a matter


My brother-in-law and I working on Iron Man in 2010.
  
of going out and continuing to try and not stopping when it doesn't work the first time. Last year, my brother-in-law and I were supposed to carve a sculpture of "Iron Man." Neither of us had a clue where to start. We packed, carved, tried again.., studied a picture and just kept at it. About an hour in… you always want to quit. But if you believe it can be done and stick to it… eventually some sand starts coming together. If you just keep going, eventually people on the beach stop and start taking pictures and whispering to each other who it is… and then you know that it's working.
Creativity always trumps resources.
When you get to a beach, there's not much to work with. Just sand. And water. And every kid and his brother are making a castle. To create something of any kind of artistic value that stands out… you gotta bring something special to it. You have to dig down deep and
CREATE
. The same holds true in almost every project I've been involved in since. I never seem to find myself with enough resources or hours or talent to do a job. In the web world I work in,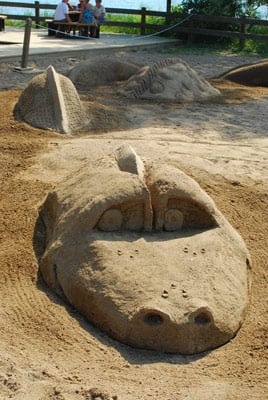 there are so many sites and so many companies with big payrolls… competing seems impossible. The only chance I have to succeed is to dig down deep… and out-think and out-create the competition.
Never be satisfied.
One of the most amazing things to me is that in 34 years of castle building, I don't think my dad and his buddies have ever stopped trying to improve. Every year has to be better than the last. What started with some kiddy shovels has grown to involve custom designed tools, hand-built sand molds, packing techniques and philosophies, team assignments, roped-off designated areas, and more and more complex sculptures and structures. It's something that is engrained in me as now, years later, I analyze every step of every web page I create and ask… how could this be better?
| | |
| --- | --- |
|    | My dad, the professor, in his classroom. |
Pass it on.
It's not enough to know things if you don't pass it on to the next generation. One of the best parts of our sand castle weekends… is that our group now holds our own sand castle contest each year for everyone else on the beach. All over the sand, kids of all ages are inspired to get to work and learn the value of creating something well. If you're ever in Indiana in August, stop by Sand Castle University. My dad and his buddies are still there. And class is still in session.