Here at SignUpGenius, we love to shine the spotlight on people who are making their corner of the world a better place. That's why our recent "Real Life St. Nick Contest" was such an inspiration to all of us and hopefully to many of you as well. With so many encouraging entries about the ways that every day people are influencing others with their extraordinary generosity, we had a tough time deciding on just a few to receive prizes. Congratulations to our "Real Life St. Nick Contest" winners!

1st Place: A $100 Visa gift card for Kimm Cray and one for her real life St. Nick daughter, Lauren.
"I nominate Lauren Cray. Four years ago, Lauren began helping raise funds for an orphanage in Kenya with 20 children in a rented facility and in constant worry about their next meal. In August, Lauren took a leave of absence from her job to help more. She has purchased a van and a small farm for them to grow food. She is a hero to these kids on the other side of the world!"
2nd place prize: A $50 Visa gift card for Maxcine Howell and one for her real life St. Nick mom!
"My mom is 82 yrs old and is still sewing gifts for people all year long. She remembers birthdays for 8 children (1 deceased), 22 grands, 15 greats, and a million adopted ones. She remembers to pray for everyone and will give her (and my dad's) last dime to help someone. She's the greatest."
3rd place prize: A $25 Visa gift card for Margaret Konczal and one for her real life St. Nick friends, Bob and Jo! 
"My 'parents' are nice people I met when I started going to church when I was having a difficult divorce. My 'parents' helped me get back on my feet to take care of my then 3 small children. They are generous to the church and community also and my 'dad' even bought the next town over a fire truck when theirs broke down and they couldn't afford a new one."
When asked about her response to winning the contest for her generosity to kids in Kenya, Lauren Cray responded, "I was so surprised to find out that my mom had entered me into this contest, and even more surprised that I had won! I told my friend that I wanted the gift card to go to Belwop Rescue Center for the two new children who just arrived on our doorstep at Christmastime."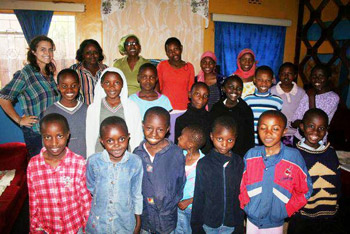 Lauren shared with us a little about the Belwop Rescue Center in Kenya. "I have been involved with Belwop for four years, since I was a junior in college. My work at the orphanage for the last five months has included creating fundraising to purchase a small income organic farm as well as a passenger van, teaching art, planting a home garden, painting and selling pictures. In addition there have been so many great personal experiences: hosting a Christmas pageant where leaders in the community could come and watch the kids sing carols and at the same time bring them gifts, or just playing with the children and tickling ten little munchkins until we were all crying with laughter! The best day of the trip was my last day there: I got to see all the kids open up their very first Christmas presents, wrapped in shiny paper with their names on it-- the girls screaming with joy over their first ever baby dolls (each unique to them) and the boys jumping up and down over their soccer jersey or toy car. I am going back next summer to help build a new home for the children of Belwop, hopefully with a large team, to see this dream continue on."

Thanks to Lauren and all of our real life St. Nick's for their efforts to make a difference in the lives of others! To read some of the inspiring entries, click here.