SignUpGenius Rewards Library Makeover in Read Across America Giveaway
Last spring, SignUpGenius asked people to nominate a school in need of a library makeover and randomly selected one winner out of 16,000 entries. The $5,000 prize was awarded to the kind folks at St. Joseph's Catholic School OST in Mount Hope, Kansas, a Catholic school that runs strictly on tithing with no support by government funding or tuition. Recently the group sent our team "before" and "after" photos – so we just had to share!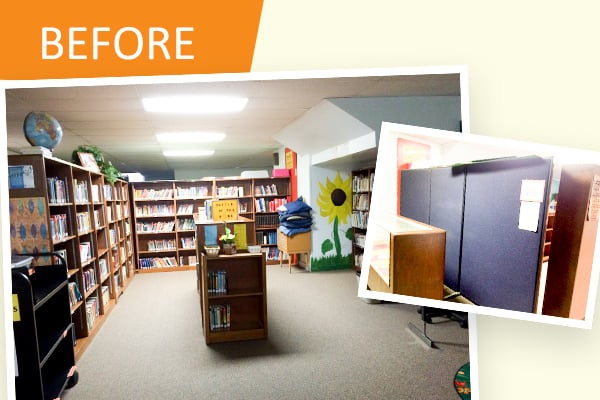 The before pictures show makeshift walls, limited space and two very slow, older computers. "It was a pretty claustrophobic area with little room for students to sit (on the floor) and read their books," says Deb Masterson, the PTA parent who nominated the school. "By middle school most kids had read every available book in the library and were having to go to outside sources for additional books to read for pleasure and AR (Accelerated Reader) goals." 
"With the $5,000 makeover money, we were able to purchase two up-to-date computers, purchase much needed new lighting, purchase wood for 10 new bookshelves and an actual (arbor-like) entrance and exit to the library, and purchase material for pillows. We expanded the library by 296 square feet! Because of (the expansion) we will be allowed to add several hundred more books on our new shelves. The expanded space allowed for a more open library space for kids to read, plus a small table and chairs, area for a bulletin board (taken from storage) and a full-size desk (again from storage) for the librarian (volunteer). The students love it and we are so grateful for the help," Masterson says. 
Sometimes the greatest gift is in giving. We were touched to be able to make a difference in the lives of the teachers, staff and children at St. Joseph's and can't wait for future opportunities to help more worthy causes.