No Tricks….Just a Sweet October Treat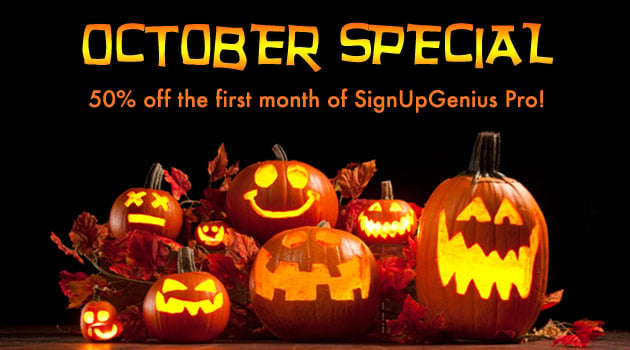 Tomb it may concern….SignUpGenius is offering a deal so ghastly good you may wonder what has possessed us. Get one month of SignUpGenius Pro for 50% off* now through October 31st! Have no fear…we haven't lost our heads. We're so sure you'll go batty for our concoction of pro features, we just can't wait for you to try it.
So slither on over and check out SignUpGenius Pro. But don't say we didn't warn you. If the thought of no ads on your sign ups makes you shiver, and the idea of hiding past or future dates seems like mere witchful thinking, you may not be able to handle your ghoulish delight. What about multiples administrators and more custom images? Oh yes, we've carved those into the deal, too. Bahahahaha!
*New SignUpGenius Pro users only.