Be a Pro Organizer this Year!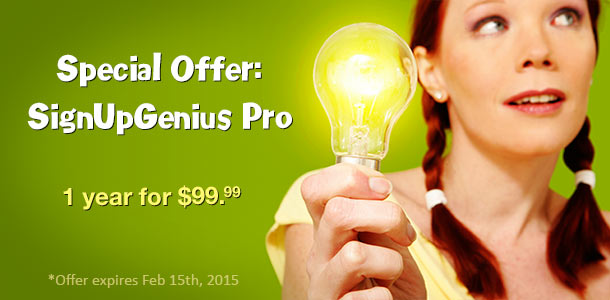 You just cracked open the 2015 planner, but it doesn't take long for your calendar to get cluttered with volunteer opportunities, fundraising obligations, events and extra-curricular activities. 
With the New Year in full swing, you may feel like you're already falling behind. Don't worry. Before the year gets away from you, we are offering a stress-busting solution to your organizing woes!
Do you need to:


    Attach a document to your sign up?


   Start or close your sign up on a specific date?


   Track volunteer hours?


   Schedule emails?


   Add multiple administrators to your account?


   Hide dates that are in the past on your sign up?


   "Lock" sign ups to prevent people from making changes right before an event?
If you've said YES to any of the above, we have the perfect time-saving tool for you – SignUpGenius Pro. And now we're offering an annual subscription for as low as $99.99 through 2/15/15. 
Ahhh… This is sure to be the most organized year ever!