Resolve to be a Genius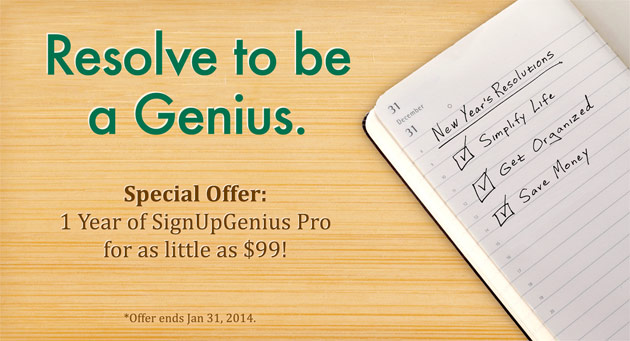 Did you know that 1 in 3 Americans make resolutions for the New Year just to abandon them in the weeks to come? This New Year calls for change you can count on. Resolve to be a GENIUS in 2014, and organize like a pro! 
This January, get a fresh start with SignUpGenius Pro for as little as $99!* 
By taking advantage of this amazing deal you'll give yourself the gift of more time and less stress by adding features to your sign ups that will make life even easier! If your group could benefit from hiding past or future dates or enabling multiple administrators, this offer is something you will not want to miss. With the ability to ask more custom questions and for hide specific fields in your sign up, you'll be on your way to collecting the information you need from your volunteers all in one spot. 
Now is the time to take advantage of all that our pro account has to offer at a low annual rate. Turn 2014 into The Year of the Genius! 
Get started with SignUpGenius Pro and find out more HERE. Offer ends 1/31/14.