Be a Genius Organizer this Fall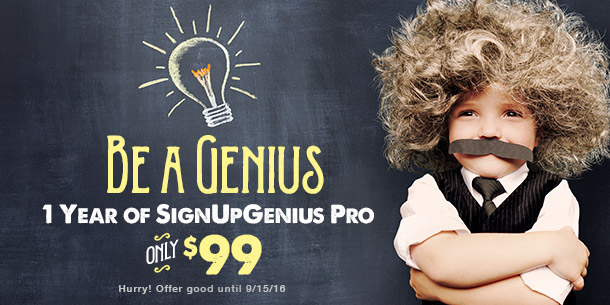 Want to look really smart this fall? Become an organizational mastermind when you purchase SignUpGenius Pro at a special rate — starting at just $99 for your first year — between August 1 and September 15. Now that's what we call a GENIUS deal! 
With our easy-to-use Pro tools, you can cut down your time spent planning and quickly organize bigger and better events. More time + easier planning — that's one equation that's simple to solve! With SignUpGenius Pro, you'll get access to brilliant tools such as: 
Calendar Sync - Your participants will be able to sync an entire sign up to their personal digital calendars. No more emails from Jacob's mom asking who's on carpool duty next Thursday.
Tabbing – If you are scheduling shifts across several months or organizing an event with numerous locations, you can link multiple sign up pages with our Sign Up Tabbing feature. Group members will have access to all linked sign ups in one easy-to-find spot.
Multiple Admins - You can give multiple logins and assign different privileges within your master account. Don't worry about someone accidentally deleting the bake sale sign up while trying to organize the school carnival!
No Ads Options - Create sign ups with no advertising for a sleeker, more professional looking online page. Perfect for school, church, nonprofit and business groups.
Volunteer Hours Reports – If you're wasting valuable time adding up hours for individuals and groups, let SignUpGenius do the math for you. Gold and Platinum users can instantly see how many hours each volunteer has signed up for with our hours reports — you can even include multiple sign ups and groups.
Email Scheduling - With SignUpGenius Gold and Platinum, schedule an email to go out at a specific time, so you never have to write an email right before it needs to be sent out. Instead, draft emails whenever you need to, and we'll send them later for you. It's a lot better than tying a string around your finger and hoping you'll remember.
Chat & Phone Assistance - Gold and Platinum users can get even quicker assistance when questions arise. Gold customers can use customer chat, and Platinum customers will receive chat or phone assistance from one of our support reps.
 With our super-smart tools and special offer it's easier than ever to be a genius! Get started today.