Special Offer EXTENDED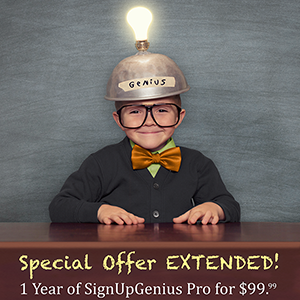 So busy you missed out on our best deal of the year? Say it ain't so! (It isn't.) 
The last couple of weeks have been chaotic as fall activities start up and schedules shift into back-to-school mode. And while we can't give you more time in your day, we can give you the next best thing. That's right — we've extended our Pro Promotion through September 30 so that you can still get in on the most organized fall EVER! 
With your new-fangled Pro organizer abilities to customize and schedule emails, track volunteer hours, assign tasks to multiple administrators and set up flexible options for starting and stopping sign ups, you'll be on your "A" game in no time. Oh, and did we mention Platinum users now can create unlimited sign ups without the hassle of ads? 
Upgrade to the Pro level that fits your needs best!