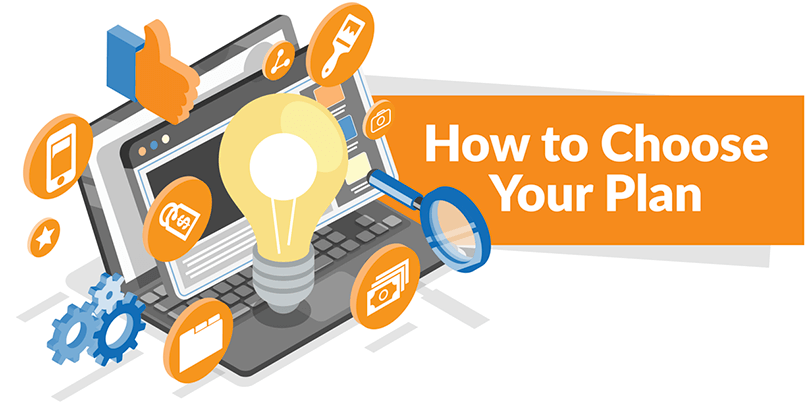 As your event planning responsibilities grow, you may need more sign up tools than a free plan would offer. Upgrading to a SignUpGenius premium plan simplifies organizing for groups of all sizes. The only question is - how do you know what plan best fits your needs? 
SignUpGenius can be a staple for coordination across any industry or organization. Whether you're in charge of scheduling volunteers, planning company team-building events, or booking clients for photography sessions, sign ups help you (and your team) streamline organizing and improve communication. 
Finding the right plan depends on the size of your group, how many co-organizers you have, the anticipated size of your participants list, and the type of sign ups you want to create. Keep reading to get insight on choosing a plan that can unlock your true genius.
How to Choose the Perfect Plan for You 
Consider your needs 
First consider what you need help with when planning events. Are you a
school administrator
working with multiple staff members, or the head of a sports club that hosts tournaments? With a premium plan, you'll benefit from the ability to add multiple administrators, create custom sign up designs to reflect your brand, and set up a portal page to host your sign ups. You can decide between our Gold or Platinum plans that include these features, based on the size of your organization. 
Or you could be the go-to planner in your personal life, volunteering to coordinate everything from parties to PTA fundraisers. Between scheduling carpool, planning neighborhood gatherings, and coordinating church events, you need more organizing power than the free SignUpGenius plan offers. By upgrading to Silver, you can use advanced tools to make planning even easier. Our tabbing feature links your sign ups so neighbors can see open sign ups for the community, and you can use custom messaging to make sure your carpool group stays on schedule. 
Check out these tips for inspiration: 
Identify the features you need 
Next, learn more about our tools and how you can use them to boost your organizing efforts. Here's a quick list with some of our most popular features: 
Custom questions - Build several custom questions and collect necessary information via drop down boxes, checkboxes, text boxes, memo fields or radio buttons. 
No ads - Remove advertisements from sign ups and sign up related emails. The number of sign ups that you can remove ads from depends on your subscription level, but this feature can be rolled forward to future sign ups. When one ends, you can re-apply the ad removal feature to a different sign up. 
Custom themes - Easily create sign up designs with our custom theme editor. Upload your images and choose from 12 layout options, including multiple photo designs. You can also access our stock library with thousands of images. 
Multiple tabbed sign ups - Group related sign up sheets together by creating a set of tabs at the top of their sign up pages. Participants can quickly navigate between multiple sign up pages and see events they might want to join. 
Portal Pages - Create a website home page that directs your audience to the right sign ups and more. You can choose which sign ups appear on the page, add sections to the page such as important files or an email opt-in subscription form, and even customize the URL. 
Multiple administrators – Share the work of organizing events by delegating administrative responsibilities.  You can customize levels of permission, giving some people the ability to make sign up changes and access personal information and others can just monitor sign up slots.  
Sign up start/stop date - Set up a sign up page to automatically start accepting sign ups at a specific date/time or to lock after a certain date/time to prevent more people from signing up. This way, you can be sure who's showing up before getting surprised at the last minute. 
Sign up locking by date - Prevent last-minute changes by participants and stop group members from either signing up or changing their slot as it gets close to the day your gathering takes place. You can decide when a sign up locks by selecting the number of days an event.  
Custom messages - Customize the content of the automated reminder messages that are sent to their participants and choose to have a confirmation email sent to their participants immediately after they sign up. You can include directions, any last-minute reminders, or simply a thank-you for signing up. 
And these are just the highlights! Visit our pricing page to see a full list of features and which plans have them. A lot to think about? Read these blogs to see premium features in action: 
SignUpGenius Premium Plans 
Silver 
When you upgrade to the Silver plan, you can add one administrator to help you organize events. You have the ability to ask two custom questions, create three ad-free sign ups, and lock sign up dates. Silver plans are great for organizers who have a busy life and need more tools at their disposal to plan effectively.  
Gold 
Gold plans come with all the advanced features of the Silver plan with more power. Ask up to five custom questions, create your own sign up themes, and use our start/stop date feature to help organize your participants. You have access to more tools like our back to website feature that allows people visiting your sign up to easily return to your website. With up to ten administrators and no ads on ten sign ups, Gold plans fully support the needs of professionals and growing organizations.  
Platinum 
If you're responsible for large-scale event planning or think you will quickly outgrow a Gold plan, Platinum would be the best choice to meet your demands. In addition to everything the other plans have to offer, you can use more advanced features to make your sign ups more professional. Create a custom sign up link, remove ads from all sign ups, include slot images to help sell merchandise, and add up to 20 admins to your account. 
Enterprise 
School systems, large companies, and nonprofits with multiple locations and needs use our Enterprise plans to streamline organizing. Instead of shopping around for a white-label solution, you can create one with an easy to use software. Completely remove all SignUpGenius branding, embed sign ups on your website, establish portal pages, and share responsibilities with unlimited administrators. To make sure you have everything you need, a dedicated support manager will be assigned to your account. 
Getting Started 
Now that you know all about SignUpGenius premium plans, test our advanced features and see how they can take your organizing efforts to the next level. Sign up for a free trial and try these powerful features yourself!