How to Use Sign Ups to Organize Socially Distant Church Gatherings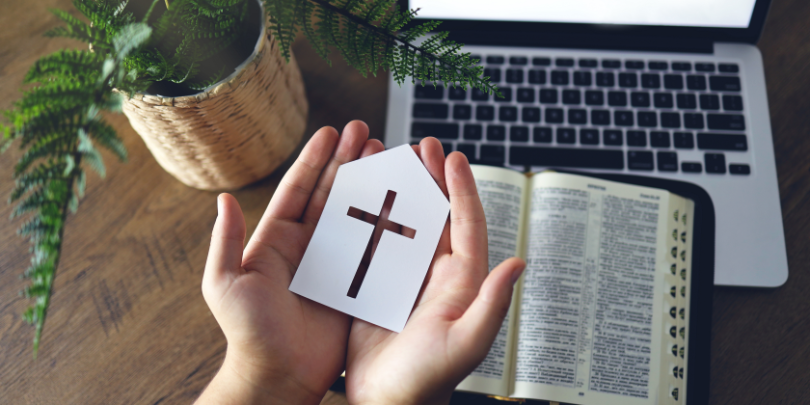 The disruption from a global pandemic and the resulting stay-at-home orders and social distancing restrictions have caused a lot of change in many lives. Now, it is more important than ever to invest in your church's spiritual health to get through new challenges.
We're here to make the process of adapting to community guidelines easier than ever with new ideas and sign ups to keep your gatherings as safe as possible.
Masked Meetings
Socially Distant Congregations - If your community guidelines are allowing in-person worship services, make sure to employ best practices like providing masks, having ample hand sanitizer available, and spacing members at least 6 feet apart along pews and chairs. To keep a limit on the number of people in your indoor venue, create a sign up with a specific number of spots for services. In addition, encourage members to sign up for only one in-person service a week to make sure everyone gets a chance to participate.
Recruit and Reassign Volunteers - Engage volunteers in new positions to ensure the safety of attendees by creating volunteer positions for handing out masks, taking temperatures, and disinfecting seats and high-contact surfaces.
Engage with Everyone - Whether your audience is in the church or viewing through a video feed, encourage members to interact with the sermon through comments and reaction icons during the live stream. You can even assign a volunteer to greet members, respond to comments, and offer a prayer through the chat or comment section of the video platform.
Outdoor Opportunities
Small Group Sessions - Find someone with a great backyard setup and get together with a couple people from your church community for a small group bible study. Genius Tip: Enlist help maintaining your sign ups from other group members with the multiple admin feature.
Lawn Church - Employ one of the best methods in preventing the spread of COVID-19 by hosting your church services outside along with maintaining social distancing and mask guidelines. On a perfect day, a nice breeze and sunshine can provide a great setting to connect with the sermon and the Lord.
Drive-In Church - Prepare for large special services such as the Christmas and Easter Sunday services with this drive-in movie inspired idea. Create a sign up with slots that have parking spot numbers so church members can attend and listen to the sermon over the radio to feel closer with their community during the holidays.
Go Virtual
Sunday Streams - Reach a large number of your members without surpassing capacity limits on gatherings by offering a live video feed that members can tune into from the comfort of their homes. You can add your Zoom meeting link directly to your sign ups so members never have to miss the Sunday sermon!
Pastor Virtual Visits - Coordinate meetings for counseling, prayer and conversation with your pastor over Zoom, FaceTime or Skype to help stay in tune with your faith and church while staying safe during the Pandemic.
Post-Church Fellowship - Take your after-service fellowship gathering online to stay safe during the pandemic. Members can connect with one another on Zoom or Google Hangouts and catch up just like they would in person. Genius Tip: Encourage members who sign up to stream the service or attend in person to attend the online hangout by customizing your confirmation and reminder emails.
Continuing Volunteer and Outreach Activities
Mobile Meals - Continue delivering meals for those in need by organizing a daily meal delivery for families and individuals in your community. Make sure to send text reminders to volunteers including the date, item and address for delivery!
Direct Donations to Keep your Community Healthy - Change the nature of typical donations to the church by creating a sign up to ask members for masks, gloves and other protective materials against the spread of COVID-19. Genius Tip: For other items that are less common for donation such as disinfecting spray and wipes or towels, you can collect money on your online church service sign ups.
Make a Message that Matters - Prevent your community members from feeling lonely or isolated while travel is restricted by delivering inspirational messages and Bible verses to mailboxes, scheduling a phone call to lift spirits, or participating in a 24-hour prayer vigil to encourage your community.
We understand that you and your church community have faced numerous new challenges in recent months. With these COVID-safe ideas, you will breeze through organizing empowering events for those around you and in your ministry.
As always, we love providing general outlines of how to stay safe and healthy. For more specific rules and regulations, head on over to the CDC's site to consult the real health geniuses!