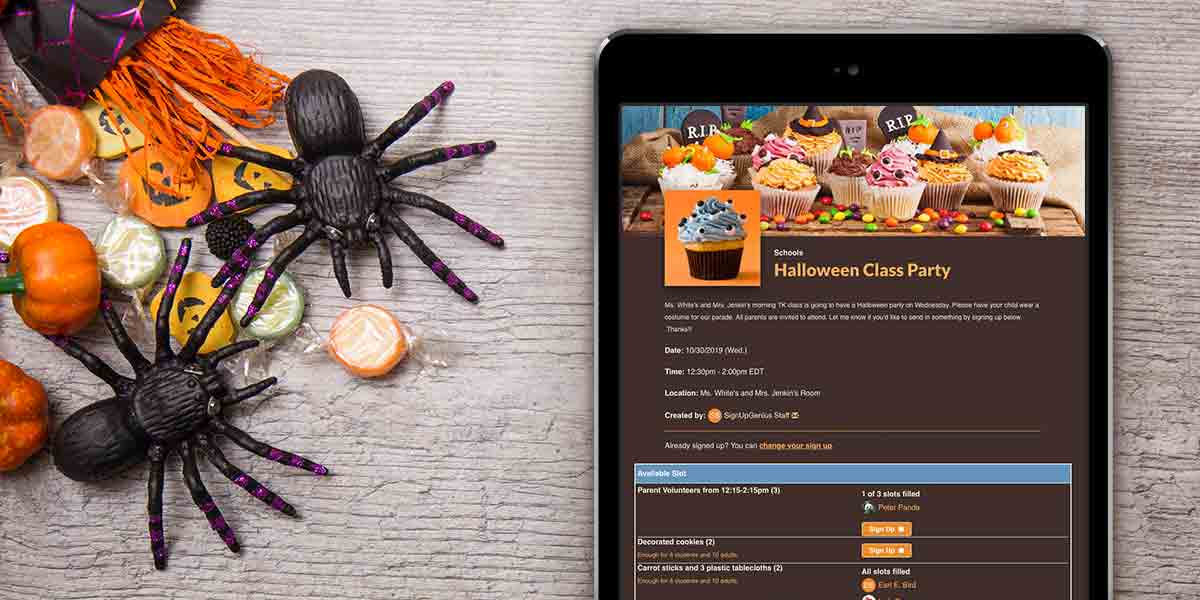 The spookiest month of the year doesn't need to be scary for group organizers! A little planning will give you more time to pull out your sweaters and sip on apple cider as you cheer on the home team. Use this checklist as a quick guideline on what to plan in October. 
Plan a Halloween Party
October 31 will be here before you know it, so start organizing everything from class parties and pumpkin carving sessions to trunk or treat and neighborhood block parties. Genius Tip: Try these 40 healthy Halloween snacks to please even the pickiest little ghouls.
Start Planning: Beginning of the month 
Schedule a Flu Shot Clinic
The change of seasons inevitably means the start of cold and flu season. Help your company's employees stay healthy by scheduling a flu shot clinic. Simplify appointments by sending out a sign up that lets them pick the most convenient time during the day for a shot.
Start Planning: Beginning of the month 
Coordinate Scout Popcorn Sales
October is a prime fundraising month for Cub Scouts selling popcorn to earn money for their dens. Plan a day or two of selling door-to-door in large neighborhoods and schedule booths in front of grocery, big box and home improvement stores to sell even more.
Start Planning: Beginning of the month 
Plan Parent Teacher Conferences
For late fall conferences (or procrastinators), make sure to schedule parent teacher conference times with a sign up. Genius Tip: Need ideas for setting up your conference sign up? Check out our complete how-to guide and you'll be done in minutes!   
Start Planning: Beginning of the month 
Organize Sports Concessions
Help your team raise money — and keep a simple schedule — by using a sign up to recruit concession stand volunteers. All that cheering makes fans hungry! Genius Tip: Turn to these 100 concession stand classics for inspiration. 
Start Planning: Throughout the month 
Raise Money with a Book Fair
Plan a fall fundraiser that's a school classic. Make sure you've got plenty of parent volunteers by sending out a sign up in your school email newsletter or posting on social media.
Start Planning: Throughout the month 
Schedule Fall Family Photo Sessions
If you're a photographer looking to simplify appointments, schedule fall family mini sessions (perfect for Christmas cards) with a sign up. Families can select the most convenient time and pay in one place!
Start Planning: Beginning of the month 
Plan a Friendsgiving Potluck
Don't overlook Thanksgiving while you're in the midst of Halloween preparations. If you plan an annual Friendsgiving potluck, you'll want to send out invites at least three to four weeks ahead of time for best attendance. Genius Tip: Try these 50 Friendsgiving tips and ideas to plan an event your besties won't soon forget.
Start Planning: By middle of the month 
Start Collecting Holiday Donations
If you're planning an Operation Christmas Child packing event (or similar charity endeavor), it's the perfect time to enroll families and start enlisting the community for donations. Genius Tip: Get tips and ideas for organizing a holiday angel tree.
Start Planning: End of the month 
Start with this list and you'll end up with some not-so-scary events!