NEW: Upgraded Custom Theme Builder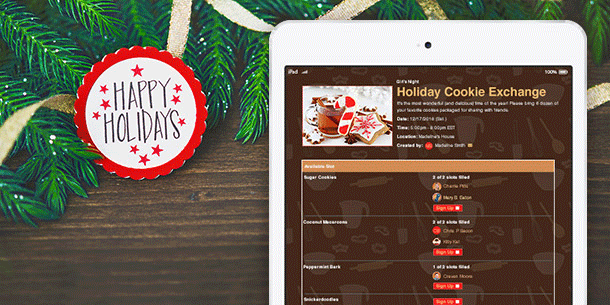 Your first holiday present is officially here! We're unveiling our newest feature just in time to help you design the most festive sign ups for your holiday potluck, office training, volunteer events, class parties and more. 
We introduced our Custom Theme Builder this fall, and now we've packed it with an extra punch. You'll still be able to upload your own custom images and pick color schemes, but we're also adding the ability to select from more than 1,600 stock images and textured backgrounds in our image library. 
Talk about happy holidays! 
Your annual holiday cookie exchange can have a sign up that looks as yummy as all the sweets that will be there. Pick a scrumptious cookie image from our stock library, and then a favorite background image while you're at it. You can still pick your favorite button and text colors to coordinate. 
Plus, custom themes can be saved to use across multiple sign ups.   
The Custom Theme Builder gives you one more brilliant reason to try SignUpGenius Pro. Pro Silver members can create one custom theme. Gold and Platinum users can create an unlimited number. Get started with your 14-day free trial today!  
Have a genius holiday season!