This Just IN…Fall Upgrades for Geniuses
New features and upgrades are hot off the press, and we've customized them with your organizing needs in mind. We've been working hard to deliver an enhanced menu of services that we know you've been craving, and it's finally time to unveil our new line-up. Extra, extra – read all about it!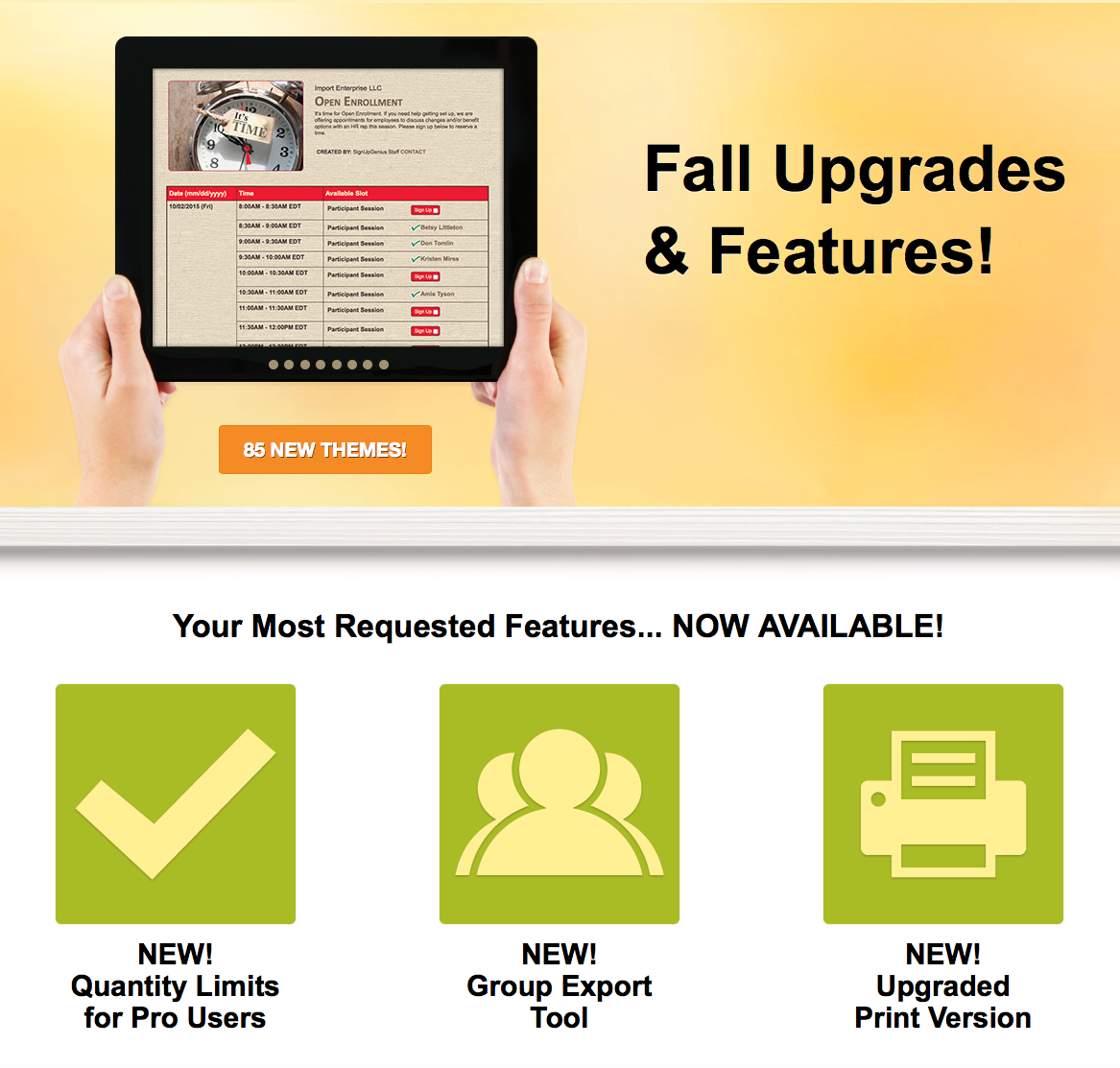 Fall Upgrades AVAILABLE NOW:
85 New Sign Up Templates

Export Contact Info for Group Participants

Limit Sign Up Quantities Per Slot or Participant [Pro Accounts]

Organize/Delete/Archive Sign Ups on Account Page

Chat and Phone Support for Premium Members

Increased SignUpGenius Pro Level Perks

Customizable Print Version of Sign Ups

Enhanced Mobile Site Functionality
We couldn't resist telling you about the features we are MOST excited about… So here's some must-have info!
NEW! Features for ALL:
85 New Themes – You'll make a great first impression with your group by using a professionally designed theme for your sign up! This fall we've added 85 brand new looks to our growing library of more than 600 themes.  Whether you're coordinating a fall festival, capital campaign, Halloween bash or a sports carpool, these fresh new themes are sure to be a hit! [VIEW NEW THEMES]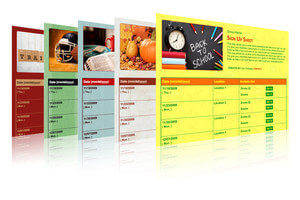 Group Export Tool – The SignUpGenius "Groups" area has always been a powerful tool for organizing the contact information for your group or organization, but now it's even better! Our new "export wizard" allows you to export one or more of your groups to an Excel compatible CSV file. In addition to names and email addresses, the group export wizard can include phone and address information if you have collected that information previously on your sign ups.
Updated Sign Ups Account Page - Since everyone is breaking out new school clothes for the fall, we wanted to dress up our look as well. That's why we've overhauled the main account dashboard that shows your sign ups. The all-new view provides a much better way to organize large numbers of sign ups, providing better tools for searching, sorting, deleting and archiving.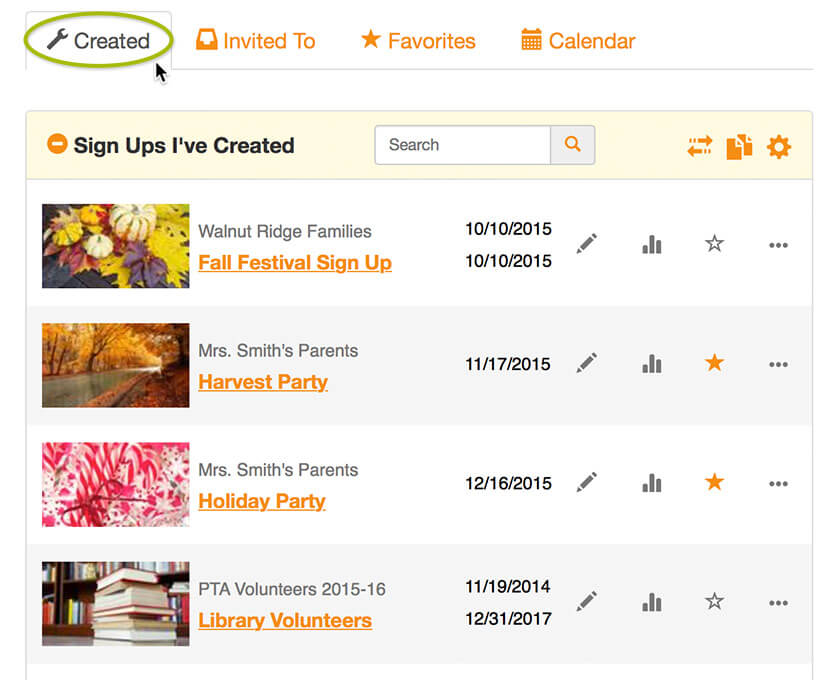 All-New Print Version - While we love the online sign up process, we realize that sometimes you just need a good old-fashioned paper copy. Want to use paper to check in people as they arrive, collect last-minute sign ups at the event, or hide contact info of people who have signed up? You can do this and much more with a fully customizable print version of your sign up page.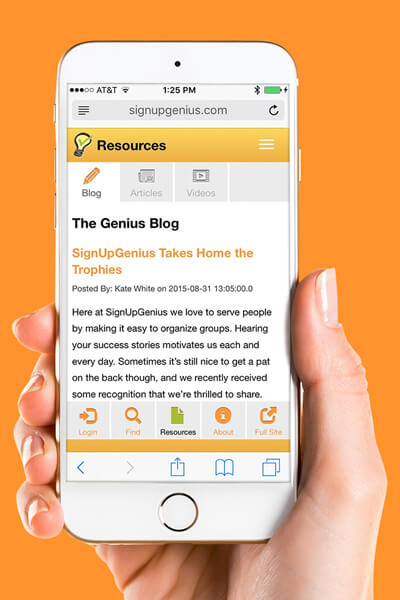 ?
Enhanced Mobile Functionality – We received great responses to the improved mobile website we unveiled earlier this year, but we couldn't resist making it even better.

Participants can now edit their sign ups without having a login on our site. They simply email themselves a link, which allows them to quickly update their sign up on their smartphone!

We've also added our vast library of resource articles to your mobile phone. Got a few minutes while you're waiting in the car pool line? Read our latest tips on organizing your family, home, church, school and nonprofit events! 
NEW! Pro-Level Perks:
We've got a back-to-school gift for our
SignUpGenius Pro
users! We've recently made changes to our Pro levels to provide more features at each subscription level without raising the price!
Quantity Limits for Users – You asked and we listened! One of our most requested features is now available. The "Quantity Limits" feature allows you to put restrictions on a sign up so your participants are prevented from signing up for more items than you would like. Now you can restrict your participants to a maximum quantity across your entire sign up page. Limit the total sign ups one person can make for your event, or set a maximum number per slot/item.
More Custom Image Storage – We've expanded the number of custom images Pro users can store in their accounts. Silver members can now have 25 custom images, Gold members can have 50 and Platinum users can store up to 250.
Increased No-Ads Licenses – We've added more No-Ads licenses to each level of Pro. Silver members now have five licenses, Gold members have 15 licenses and Platinum members now have UNLIMITED No-Ads on all the sign ups in their account. (We know — we love it, too!)
New Support Options for Pro Gold and Platinum Users – Providing phenomenal customer support is a core value of our company, and our award-winning customer support team is taking it up another notch this fall. SignUpGenius Gold and Platinum users will enjoy real-time chat support, as well as phone support for SignUpGenius Platinum users. While all users will continue to get prompt and personal email assistance, we're making sure our premium subscription customers have an extra level of support available.