Blog
/
Feature Tips
/ NEW FEATURE: Custom Theme Builder — Design Your Own Sign Up
NEW FEATURE: Custom Theme Builder — Design Your Own Sign Up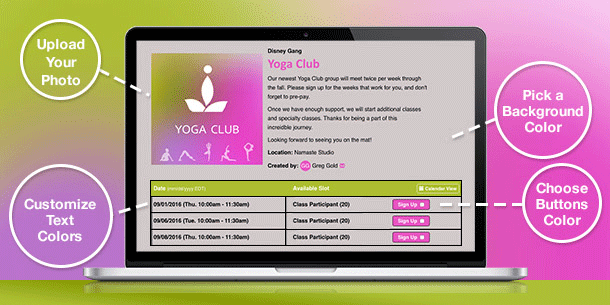 Attention, Picassos. We know you've dreamed of designing a sign up theme to perfectly fit your group's style. Now, it's time to pick up your digital paintbrush. 
SignUpGenius unveils our newest feature: Custom Theme Builder. This simple tool allows sign up creators to upload an image and choose a complementary color palette for a unique look.  
That means your next corporate training sign up could have the ideal shade of blue for its background to match the company's logo. And how about Jacob's birthday bash? Upload his favorite picture and choose background, button and text colors to match his birthday decorations. #GeniusParent  
Plus, custom themes can be saved to use across multiple sign ups.  
The Custom Theme Builder gives you one more brilliant reason to try SignUpGenius Pro! Pro Silver members can create one custom theme. Gold and Platinum users can create an unlimited number. Get started with your 14-day free trial today! 
And, stay tuned for more SignUpGenius upgrades all fall. Because event planning is easier with a genius on your side!