Here at SignUpGenius, we're gearing up for the busy fall season with lots of great new features to make organizing your volunteers and events even easier. Check out what we just released!
Multiple Names Per Account

Do you and your spouse share a single email address and both need to sign up for something? Or maybe you've wondered how you could sign up your child's name on a sign up using your own account? Well, now it's easy to sign up for things using a single email account while entering different names for different family members on the sign up page! When you login and sign up, look for the "alternate name" checkbox that lets you adjust the name that will display on the sign up page. You can even sign up multiple times with the same account, entering a different display name each time. If you make a mistake, you can go back and edit any of the names for your account. In addition, sign up creators also have the ability to adjust the display name of anyone on their pages! Give it a try!
Updated Admin Sign Up Tool
One of the most powerful features of SignUpGenius has always been the ability for sign up creators to enter people onto their sign ups themselves. We've made the process even easier with a complete refresh of the sign up creator admin tool.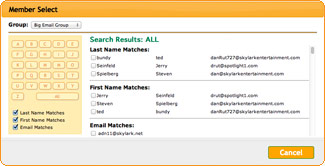 Instead of signing people up by typing in their information, sign up creators can now simply select from the members already in their group. Additionally, if the user needs to be signed up for multiple items, the sign up creator will no longer need to enter the person's name multiple times. Instead, the sign up creator can quickly select all the slots that they want to sign this person up for and sign them up in bulk! The user will get one summary email of everything you signed them up for. Finally, we've streamlined this admin page to make loading and management much faster for very large sign ups. Enjoy!
Admin EDIT ability

One of our most requested features is now here! In addition to signing people up and deleting sign ups… sign up creators now have the ability to EDIT the sign up items on their page. Did you forget to add someone's email or need to quickly adjust the spelling of a name? Now you can edit any of the items on your page at any time. To access this functionality, login as the administrator and view your sign up. Then click on the "add/edit/delete people" button in the administrator's toolbar at the top of the page for complete control of everything on your page!
Better Grouping for Reminders
We've improved our automated reminder system to streamline the emails that you will receive. If you sign up for multiple time slots on the same day, our system will group the items together and send you a single email reminder!
Sign Up Timestamp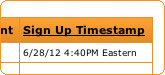 Need to know when your users signed up for various items? Now you can. Our custom reports have been updated to include the timestamp of when your user signed up. To run a report and view the timestamps, login and click on "custom reports" in the right hand column of the My Account page.
We're not finished yet! We've got more great features coming to make this fall your most easily organized season yet! Check our blog during the summer for updates on what's new!