Celebrate National Volunteer Week with These Ideas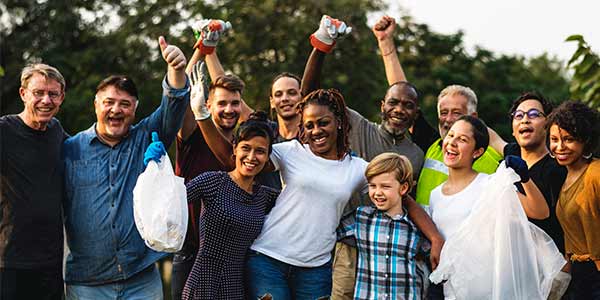 When groups of committed people rally together, they change the world! For this year's National Volunteer Week, we want to thank you for the world-changing things you do when you create sign ups. In lieu of throwing you an ice cream sundae party, here are some ideas to fuel your volunteering — and ideas to thank your volunteers! 
Ideas for Anyone
No matter what type of group you're a part of, you can find an idea to
serve during National Volunteer Week
. Here are a few of our favorites:
Older students at your school can hold a sports camp for a local Boys & Girls Club or for younger students.
Businesses can host a career day for a low-income high school or after-school program to give opportunities to students who may not typically get a glimpse into the professional world.
A neighborhood group can bake treats for local first responders and deliver them to the fire station or police station.
National Volunteer Week is a great opportunity to find either
one-time or ongoing community service ideas
and other ways to
better your community
. 
Ideas for Kids
Get your little ones involved in serving others early with some
kid-friendly volunteering ideas
like these:
Start close to home by offering to rake leaves, pick up sticks or mow the lawn of an elderly neighbor.
Help some cute critters when you volunteer at a local animal shelter.
Volunteer and learn at the same time by helping shelve books at a local library or whatever other needs they have.
Ideas for Teens + College Students
Whether they're volunteering for service hours, college applications or just out of the goodness of their hearts,
teen volunteers
and
college students
can serve with a few of these ideas:
Collect craft kits and deliver them to patients at St. Jude Children's Research Hospital or a local hospital.
Become a mentor with Big Brothers, Big Sisters.
Start a community garden in your neighborhood or on your campus. Donate your crop to a shelter that could use fresh food.
Sell coffee for $1 in the libraries during finals and donate the money to a scholarship fund to help more students attend college.
Volunteer Appreciation Ideas
From
themed parties
to
creative affordable gifts
, nonprofits, schools and other organizations can show volunteers how much they matter with
unique volunteer appreciation ideas
.
Since your volunteers deserve the royal treatment, throw a medieval-themed party. You can hand out crowns to honor accomplishments and feed everyone some royally delicious food.
Give volunteers a "stay-cation in a bag" with aromatherapy candles, slippers or cozy socks and a heartfelt note encouraging them to rest after all their hard work!
Host a "Sundae on a Friday" and provide volunteers with all the ingredients for a sweet ice cream sundae party — or take them to a local ice cream parlor or frozen yogurt shop.
At SignUpGenius, we're all about simplifying group organization so that you can get to the world-changing part quickly and more efficiently. Gather your group and get started, geniuses!