Blog
/
Event Tips
/ June Event Planning Checklist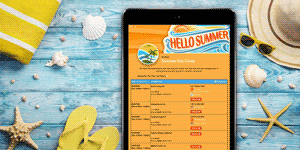 Summer officially arrives this month, ushering in warmer days and the start of summer break for students. It's the perfect time to reconnect with friends, neighbors and family — whether you're planning a cookout on the beach for family or a big summer festival for your community.  Get started with this simple checklist for all your June events. 
Wrap Up the School Year
For many families, the beginning of June is a transition period between the school year and summer break. If you haven't already, plan a graduation party or organize a class gift with a sign up so your teacher knows she or he is appreciated. Genius Tip: Need a last-minute present? We've got you covered with these 50 teacher gift ideas.
Start Planning: As early in the month as possible 
Coordinate Swim Team Volunteers
With home and away swim meets on the schedule, you'll need plenty of parent volunteers to make things tick. Send an online sign up to parents with volunteer slots from lane timers to concessions. Genius Tip: Share multiple meets at once simply by linking sign ups together with tabbing.
Start Planning: Beginning of the month 
Celebrate Dads
Don't let Father's Day pass by without recognizing these special men. Plan some fun activities for dad that weekend or plan a doughnuts with dad breakfast with an RSVP sign up.
Start Planning: Beginning of the month 
Organize a Summer Garden Schedule
Spending some time in the garden is a summertime tradition that will pay off with bountiful vegetables and herbs. Create a summer watering schedule for your community garden or school. A sign up is also an easy way to recruit vendors for your summer farmers market.
Start Planning: Beginning of the month 
Finalize Vacation Bible School and Summer Camp
Now's the time to check and double check that you have enough volunteers for your church Vacation Bible School. It's also a good time to communicate with parents who may have procrastinated signing their kids up for VBS and other summer camps. Make summer camp registration simple with a sign up where you can collect payments online.
Start Planning: Beginning of the month 
Plan a Picnic
The sky's the limit — you could plan a potluck for a summer family reunion or invite company staff and family to a work picnic. Genius Tip: Keep your guests entertained with these 20 outdoor games for your party.
Start Planning: Throughout the month — give yourself at least two to three weeks lead time to send out invites 
Coordinate a Summer Festival
Summer carnivals and festivals are a fun tradition that can also be valuable fundraisers for your church, nonprofit or group. Sell advance tickets with a sign up and coordinate everything from festival volunteers to craft vendors with sign ups that are linked by tabbing.
Start Planning: At least a month in advance of your event 
Get the Neighbors Together
Relax with a party at the neighborhood pool or a block party where people can contribute their favorite summer dishes potluck-style. Genius Tip: Try these 60 summer activities for kids to keep them entertained at the party.
Start Planning: Throughout the month, depending on your party date 
Employee Training
Your workers might be taking vacation throughout the summer, but it's also a great time to encourage some continuing education and training in their fields. Plan a summer lunch and learn series or a career mentoring event to encourage connections and education.
Start Planning: Throughout the month 
Celebrate Independence Day
This favorite summer holiday is the perfect excuse to plan a cookout or neighborhood or community parade. Organize 4th of July party games and food with an online sign up.
Start Planning: Mid-month 
Start your planning now, and you'll have plenty of time this month to sit poolside. Welcome, summer!