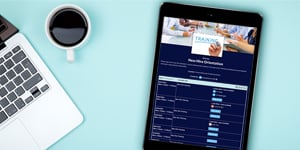 July may be the thick of summer, but genius organizers know it's also the best time to get ahead and start planning events for the busy back-to-school and fall season. Don't forget to check these items off your list! 
Plan Company Events
Help employees get to know each other outside the office by organizing a company picnic. Provide the main dish and ask people to show off their culinary skills by bringing sides and desserts for a company potluck. Want to plan something for the work day? Schedule a lunch and learn speaker.
Start Planning: Beginning of the month 
Organize Sports Travel Teams
Summer is the heart of travel season for traveling baseball, basketball, soccer teams and more. Whether you need to recruit volunteers to work concessions for the next tournament or coordinate a carpool schedule, organizing is easy with online sign ups. Genius Tip: Travel like a pro with these 40 tips for youth sports families.
Start Planning: Throughout the month 
Schedule Campus Tours
A break from school means eager high schoolers ready to explore campus and their next chapter. Streamline college visits by scheduling campus tour guides with a sign up. Genius Tip: Make the most of your trip with these 25 tips for college visits.
Start Planning: Throughout the month 
Recruit Church Helpers
August will mean the start of Sunday School classes, youth group retreats and more. Use this month to reach out to past volunteers and recruit new ones who can help lead your church programming. Make it simple for people to see what positions have been filled and which are open with an online sign up.
Start Planning: By mid-month 
Schedule Sports Physicals
Fall sports will be here in no time — and the requirement that team members have up-to-date physicals. Make it simple for young athletes and their parents by scheduling pop-up appointments at sites in your local community.
Start Planning: By mid-month 
Manage College Move-in Day
Welcome new and returning students to campus by scheduling extra help on move-in weekend. Don't forget to provide plenty of water in the dorm office! Genius Tip: Get this printable college packing list to make sure you don't miss anything on your shopping trip.
Start Planning: Throughout the month
Register Group Participants
Whether you're running a dance studio or scout troop, register children with a simple sign up that also accepts online payments. Genius Tip: Make registration even easier by organizing people into groups in your SignUpGenius account.
Start Planning: Throughout the month 
Plan a Back-to-School Party
You might not want to think about it yet, but you'll be happy your planning is done early when you throw a fun back-to-school celebration. Organize volunteers, food and prize donations with a sign up. Need inspiration? Try popsicles at the playground for rising kindergarten students, an ice cream social or old-fashioned pool party.
Start Planning: Middle to end of month  Pat yourself on the back, overachiever! You're one step closer to an organized season.