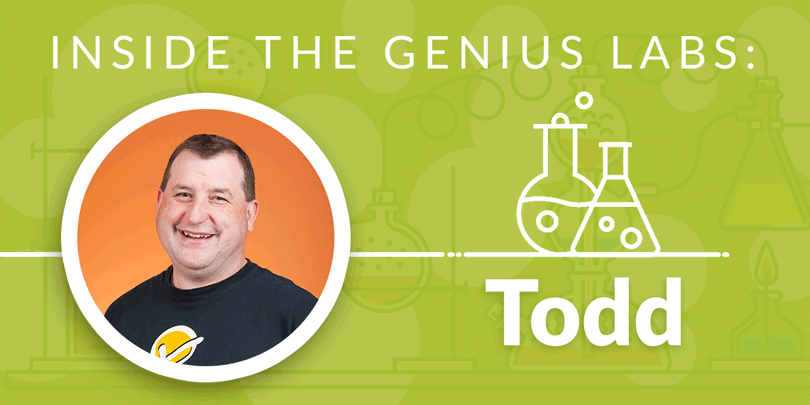 Name: Todd Bruss
Job Title: Web Developer
Staff Superlative: Most likely to write a song about Friday (the best day of the week)
If I could do anything for a day, I would:
Write an online interactive video game that visually impaired players can play.
What do you enjoy most about your job?
I enjoy the people who I work with and even though it is a little more difficult working remotely, I often enjoy answering questions via chat and video calls. Every now and then we'll take a break out of our busy schedules and play Code Names via Zoom.
How have you seen SUG organizers change the world?
The biggest impact I have seen is the number of participants currently signing up for COVID vaccinations. We have never seen this volume before on any of our sign ups. It is truly wonderful. SignUpGenius is playing a big role in the fight against COVID.
Of our six core values, which one stands out the most to you?
Treat people better than we'd expect to be treated.
How do you see people in the company embodying it?
Our company embraces helping each other. Whenever there is a difficult problem to solve, a team member will often volunteer, pitch in and help. Not to mention we all have busy schedules, but we always seem to find time to help someone on our team.
When we help others, we are putting that person first and treating them as if they are a customer. I will admit, helping others does make us feel good.
What's a funny story or favorite memory you have from working at SUG?
I started with SignUpGenius working as a freelance Graphic Designer. I was very much out of practice. To make up for lost time, I would put 3-4 times the amount of work into each project working late into the night. The next morning, I would submit my work and would either have revisions to do or would start a new project. I did this repeatedly until I was hired by SignUpGenius three months later as a Graphic and UI Designer. A year later, I was promoted to a Web Developer.
What was your favorite day while working at SUG?
We are very competitive at SignUpGenius. During a chili cook-off, the evening before the event, I ordered a 24-count hot dog steamer from Amazon. Needless to say, I didn't win the competition with my fantastic chili dogs, but it did make the day a little more memorable.
Todd is a living legend here at SignUpGenius. From his stories to his problem-solving skills, we can't imagine life without Todd. To learn about the rest of our team, visit our About Us page.