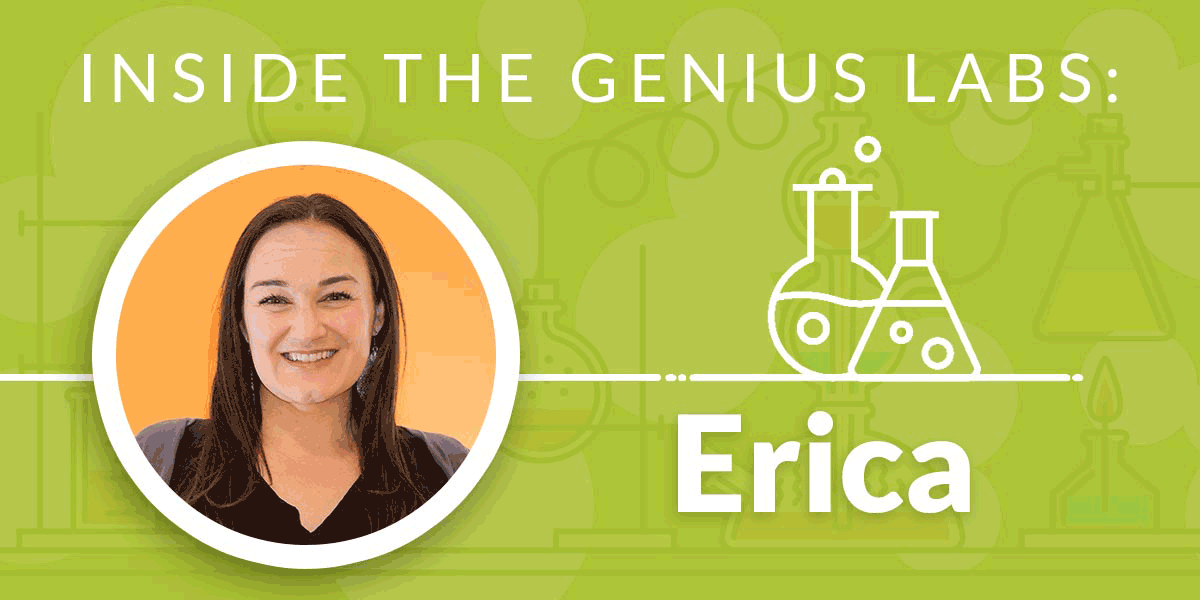 Name: Erica Thomas
Job Title: Marketing Strategist
Staff Superlative: Most Excited About Desk Cleaning Day
If I could do anything for a day, I would: Explore a coastal town with my family mid-morning, enjoying coffee, donuts and sunshine. I'd want to eat brunch at a vegan restaurant and hopefully meet a few new local friends in the process. In the afternoon I'd head off to find a locally owned fabric store to geek out over designer fabric and start a sewing project or two. At dinner time I'd gather my loud and crazy family for dinner where we each share our "highs" and "lows" (best and most challenging) parts of our day (a family tradition) and laugh over dessert and a competitive game of Uno (another tradition). Our shared memories and family traditions anchor me to what matters most in my life. And when I talk about my family, I don't mean just my husband and two kids (though they are super cool). We have a large extended family stretching all the way from California to Indiana and they would all be there to participate in this day too.
What do you enjoy most about your job? The wide variety of marketing work I get to do and the people I do it with. The work culture at SignUpGenius is unique. It is uplifting, positive and super productive (the unlimited free coffee helps). Solving problems and seeing results are two aspects I especially enjoy as our team tracks progress and milestones. I enjoy coming to work each day, and can tell my teammates enjoy collaborating on projects. Fun and laughter are common at SignUpGenius.
How have you seen SUG organizers change the world? Teachers! I come from a family of educators and greatly respect and value those who work in education, especially primary and secondary education. I am inspired daily with stories and feedback from educators about how they use the tool to benefit their students and surrounding communities.
Of our six core values, which one stands out the most to you? How do you see people in the company embodying it? The idea that we "Advance the missions of others with our success" really resonates with me. We support partner nonprofits that benefit at-risk and vulnerable children, along with giving back to local nonprofits in our hometown of Charlotte. We volunteer often in the community as a team, as well as donate financially. Employees are excited to serve, and it is a regular part of our work life.
What's a funny story or favorite memory you have from working at SUG? Halloween is my favorite day of the year at SignUpGenius because we all take it so dang seriously. Dressing up on Halloween is not optional, it is expected, and the competition between teams and individuals for the best costume prize is fierce! We brainstorm throughout the year and when the day comes, we have a big party surrounded by spooky treats and decor.
What was your favorite day while working at SUG? Ah, yes, it is tied between two days for me. The first was going to the North Carolina PTA convention here in Charlotte and meeting so many amazing educators and administrators. We set up a fun photo booth and gave away SignUpGenius T-shirts. It was amazing to talk to so many SUG fans and hear about how they use sign ups in their work and personal lives. We got to meet a few teacher "super fans" who LOVE SignUpGenius and it made me feel super proud of what we do.
The other day that I enjoyed was when our staff team went to an escape room one afternoon. There was quite a bit of recruiting going on pre-event between the three different teams and then once each team got settled into their specific escape room and the timer started, we saw everyone's personality differences shine. Every team member's skills and strengths were in action and on a mission to solve the problem. It was so much fun!
We love Erica's genius joy here at SUG headquarters! Want to learn more about our genius team? Check out the About Us page.