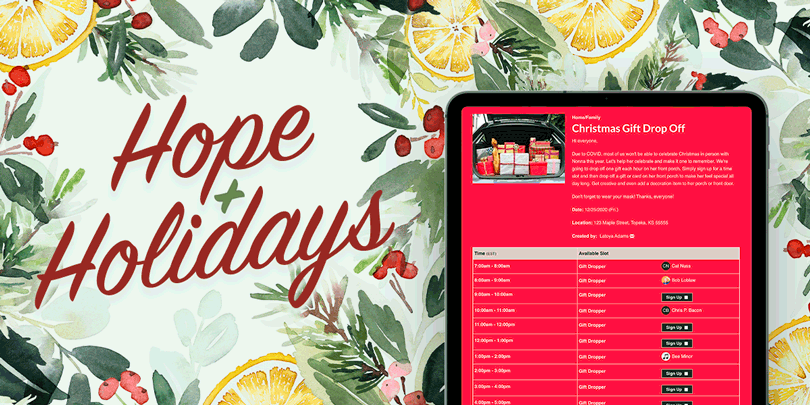 We'll be missing some of our favorite traditions and people this year, but there are many ways to bring joy and hope to the holidays. Check out our guide for ideas to embrace the season of giving and safely celebrate with family and friends.
Plan a Holiday Event - Bring your group together with a virtual event. It's easy to invite people and share your Zoom link with a sign up. Invite family to share a Chanukah blessing and virtually light the menorah. Get the laughs and conversation started with these Christmas icebreakers, whether you're celebrating online or in person. Try some of these socially distant gathering ideas to reunite with loved ones while staying at home.
The Giving Season - You can safely modify your giving traditions, from company holiday exchanges to playing Santa for family and friends. Make Christmas special for loved ones by scheduling gift drop-offs and bring holiday joy to a family in need by collecting Angel Tree donations. Remember to thank the people who make a difference in your life, from amazing teachers to colleagues and pastors.
Holiday Worship - Organize socially distant worship services with an online sign up, and coordinate holiday traditions such as lighting advent candles. Invite your congregation to join a prayer vigil during the holidays, and coordinate volunteers to support community outreach missions.
Thank Teachers - Teachers have shown their superhero status in even more ways this year! Check out these ideas for teachers gifts, and collect donations with an online sign up. Some annual fundraisers may be on hold this season, but you can support your school with a socially distant event like wreath or poinsettia sales.
Support Your Neighbors - Many families are facing hunger and hardship this holiday season in the midst of the pandemic. You can organize a food drive to help food banks fill pantries and holiday tables in your community. Or raise money for a nonprofit by syncing a crowdfunding campaign to your sign up with Fundly. Help elderly or at-risk neighbors by scheduling meal deliveries or shopping for groceries.
Schedule Self-Care - This year has tested us in ways we never expected — take a deep breath during the holidays and try some of these ways to manage stress. Learn how you can rest your brain and find peace during busy seasons. Taking time for yourself over the holidays can help you reset and be ready to take on opportunities and challenges in 2021.
With these tips and ideas, we can keep family and hope close to our hearts, even if we are spending the holidays apart. Someday soon we all will be together, but until then, there's plenty of time to count our blessings and cozy up with hot chocolate and Christmas movies.