Free Printable: #GeniusInTraining First Day of School Sign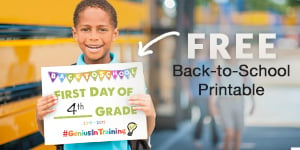 You've made the lunches, assembled outfits and packed the school supplies. Now it's time to send your little genius off to start a new year at school! But hold off on walking them to the school bus — we can't let you forget to capture some first day of school memories! 
Download our free #GeniusInTraining printable, fill in your child's grade and snap a picture. Post on Instagram and tag us @signupgenius — and don't forget to use the hashtag #GeniusInTraining! 
Looking for more ways to organize back-to-school season? Browse these helpful ideas.
We know you'll do genius things this year!