New Tools for Collecting Money on Your Sign Ups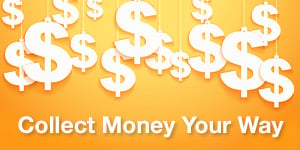 Collecting money on your sign ups is more powerful than ever with our latest features. Whether you're running a business or raising money for a good cause, we'll help you earn more money — and save valuable time! 
With Our New Additions You Can: 
Add product images on your sign up for items you are selling. Perfect for school spirit wear orders, small businesses and product sales.
Offer discounts based on date or volume. Want to offer a discount for people who register early for dance camp? Now you can. The same goes if you want to reward someone for buying a 10-pack of school carnival tickets.
Provide flexible fee options. We still offer a low fee of 5% of purchases plus $0.50 per transaction, but now you can decide who pays the fee. Buyers can pay it at checkout or you (the seller) can absorb it and deduct from your earnings.
How to Get Started 
If you're new to collecting money on sign ups, it's a simple process to begin: 
Enable your SignUpGenius account to collect money with our payments processor, WePay. It only takes minutes — just remember to add your bank account information, so we can deposit the funds you collect!
Start creating a sign up like you normally would. When you get to Step 4: Slots, you'll select the "Pay $" column in the table and enter relevant information, such as price and any discount you plan to offer.
Add any product images in Step 4: Slots as well. You can add multiple images per slot.
Want to add these features to an existing sign up? Log in to your account, select the sign up you'd like to edit and proceed to Step 4: Slots to select the item you'd like to change.
Paying is simple for your participants! They don't even need a SignUpGenius account, and we take debit and credit cards. The money paid will be directly deposited into your bank account or you can request a check.
What Can I Collect Money for?  
You can save valuable organizing time by collecting money online — and making life easier for your participants. Here are some of our most popular uses: 
Try our powerful collect money features today — your groups will thank you!