You're going to LOVE our new feature!
This Valentine's Day, we've got a sweet treat for you! Starting today, we've added a powerful new feature for SignUpGenius Pro users: start/stop dates for sign ups.
Sign Up Start/Stop Dates
Set a date/time to start accepting sign ups
Set a date/time to stop accepting sign ups
Choose whether or not to hide your slots from your users before the start date
Choose whether or not to lock your slots from changes after the close date
Choose alternate text to display on your page when sign ups are closed
What's it for?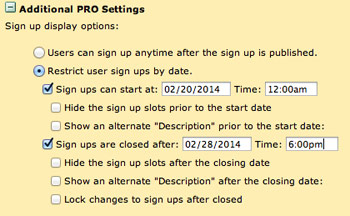 When an event is in high demand, making the sign up process fair for everyone is critical. Say that you're accepting sign ups for a new "Mommy & Me Kickboxing" class that you are teaching. Obviously, the highly-coveted slots for this mom/toddler smackdown will fill up immediately. With our new start/stop dates feature, you can avoid having your neighbor go all Chuck Norris on you because she didn't get the email about the sign up at the same time as everyone else. Simply set an official start time for when you will begin accepting sign ups on your page at SignUpGenius and announce it to everyone well in advance. Our system will then prevent people from signing up until the exact time you specify. When the time comes, SignUpGenius will open the page to sign ups automatically. We make it easy so you can just sit back and let the mad competition begin! Kapow!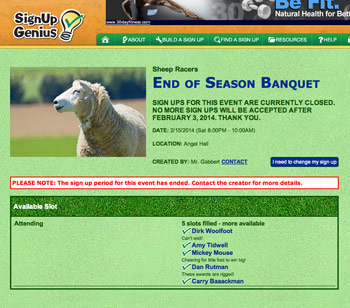 Alternately, maybe you're the one in charge of planning the big "End of Season Sheep Racing Banquet." Members have to sign up that they are attending at least a week in advance so you know how many dinners to order (steak, of course… not lamb). With our start/stop dates, you can now close your sign up at a specific time and SignUpGenius will automatically block people from signing up after the designated time! It's easy - put the date in the system and let SignUpGenius do the rest. You can even lock your sign up so angry sheep racers can't cancel their reservation the night before when they find out that some of the all-star sheep were eating performance-enhancing grain! Ewe feel me?
Available in SignUpGenius Pro
We know you're going to fall head over heels for this new feature so we're making it available immediately for all levels of SignUpGenius Pro. Pro users will find the new feature in the "settings" page of the sign up creation screens.
And because we want to make sure you get a chance to use this new feature, we're extending our SignUpGenius Pro promotional pricing until February 12th!
$99.99 for 1 Year of SignUpGenius Pro Silver
$249.99 for 1 Year of SignUpGenius Pro Gold
$499.99 for 1 Year of SignUpGenius Pro Platinum
Learn more!