Upgrade News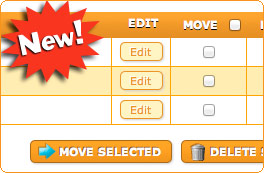 Great news! We've added a new tool to help sign up creators with the administration of their sign ups! Our new "move" functionality enables sign up creators to quickly move users on their sign ups to another slot. Did one of your dates get cancelled? Are you combining two events into one? Need to move a couple users to a different responsibility that better fits their skills? Not a problem. Forget the old method of deleting people off the sign up and signing them up again in a new slot. With our "move" feature, it takes only a couple clicks to move everyone from their existing slot to another open slot and send them an email notification in the process.
In addition to "move," sign up creators can also "swap" two users from their existing slots. Choose the users you want to swap and we can notify them both by email of the change. It couldn't be easier!
To find the new functionality, login to the site with the account you used to create the sign up and view the sign up. In the admin's toolbar at the top of the screen, choose the "add/edit/delete people" button. You'll see a new column for "move." Check multiple users at once to move people to a new slot. Select one user at a time if you'd like the option to swap.
Check it out and let us know what you think!