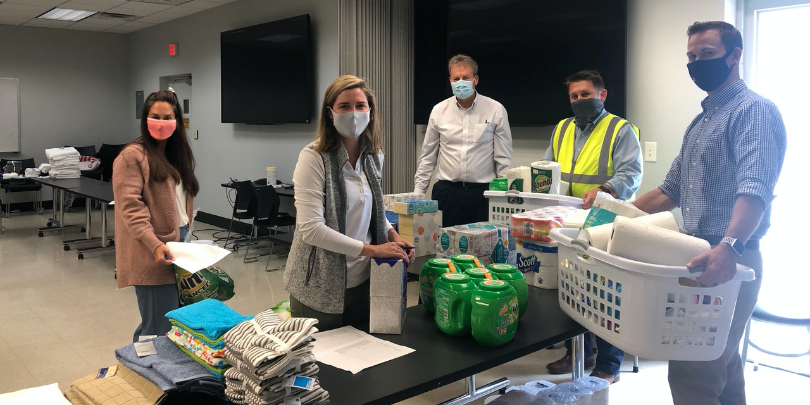 Nonprofits face unprecedented challenges as the COVID-19 pandemic impacts our communities. These organizations have adapted quickly to continue their world-changing missions while facing volunteer restrictions and declines in donations. We're checking in with several nonprofits doing critical work in our hometown of Charlotte, North Carolina, to find out how they are continuing to make a difference during this time.
Families Forward Charlotte partners with families living in poverty in the Charlotte, North Carolina area. The nonprofit provides individualized mentoring, educational opportunities and essential support to walk alongside each family on their journey toward long-term financial stability and economic mobility.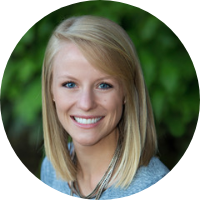 Caroline Cox
Caroline Cox, Development & Program Manager for Families Forward Charlotte, joined the nonprofit full-time after serving as Programming Chair on the Board of Directors for two years. Caroline shares how their team continues to support the Family Success Program and how they used SignUpGenius to serve clients during this challenging time.
SignUpGenius: What was the first impact of COVID-19 on your nonprofit?
Caroline Cox: The first impact of COVID-19 on Families Forward Charlotte was directly to the families in our Family Success Program (FSP). Many of the families in our program work part-time or are in the service industry. Twenty-three of the twenty-seven families we serve either lost employment, had hours cut or could not work due to sudden lack of childcare. These families do not have savings to fall back on so the impact of the loss of income was detrimental to their progress towards economic mobility.
SUG: How did you shift your events and fundraising strategy?
Cox: Our FSP is operating virtually. All Family Liaisons and family partner meetings are being held virtually, either via phone, email or video calls. As part of our program, we host monthly educational workshops. These were all moved to be held virtually through Zoom. We shifted the focus of our workshops to cover topics like stress management and finding joy in times of uncertainty.
COVID-19 has also impacted how we are proceeding with our fundraising strategy. Following the outbreak, we held a COVID-19 Relief Fund campaign, and through generous donations were able to increase our financial support of our families while they are unable to work. We expect these funds to support our families through July and are strategizing on how to maintain additional support until they are able to get back into the workforce. Additionally, our largest annual fundraising event is normally in February, but we are preparing for the potential that it will have to be held virtually. We are continuing to look ahead to the uncertainty of employment, shutdown orders and potential additional outbreak spikes as we plan our programming, fundraising, and support of our families during our upcoming program year.
SUG: How has your team used SignUpGenius to engage volunteers/plan events during this time?
Cox: SignUpGenius has been instrumental in allowing us to engage with our community to support our families and our program during this difficult time. Since all schools moved to virtual learning, families in our program were faced with the new challenge of homeschooling. These families have limited income and do not have the ability to print worksheets, coloring sheets and activities for their children at home. We used SignUpGenius to create a sign up for volunteers to mail activities directly to our families. Through this sign up, 45 kids in our Family Success Program receive games and learning activities in the mail.
Parents in our Family Success Program also faced the challenge of providing food for their children during the day, which would have normally been provided by their school's free breakfast and lunch programs. Through SignUpGenius, volunteers signed up and mailed 67 kids in our program snacks to eat during the day.
Lastly, we have sent families in our program sign up information through SignUpGenius for our virtual workshops and have recruited additional volunteers by having community members sign up through SignUpGenius for informational sessions to learn about how to get involved with our organization.
SUG: How has the pandemic affected the people you serve?
Cox: At the start of the shutdowns, we surveyed the 27 families in our Family Success Program: 23 lost employment, had hours cut or couldn't work due to lack of childcare. Families in our Family Success Program had achieved significant progress working with their Family Liaisons to obtain their goals and the setback has been emotionally, mentally and financially crushing. We are assisting Family Liaisons to increase support, help families survive in this pandemic and regain momentum on their previous progress towards self-sufficiency.
SUG: What initiatives are most important for your nonprofit during this time?
Cox: Critical to our mission, we are working to ensure that all families in our Family Success Program are able to retain their recently gained success with respect to employment, housing, education, and other areas of importance as they continue to pursue their goals and path to self-sufficiency and financial stability. Loss of employment for these families will be a financial burden for months to come. Even more so, the demoralizing emotional and mental toll of this setback can create a downward spiral as families struggle to regain their footing. We are committed to ensuring families are supported by our Family Liaisons, our dedicated board and volunteers, and by new staff as we help them reconstruct their goals and their path to economic mobility.
SUG: How can volunteers still support your mission?
Cox: Volunteers can support our mission by volunteering to become Family Liaisons and mentor families in our Family Success Program. The partnerships between Family Liaisons and families in our program bridge differing members of society and cultivate an understanding and appreciation for the struggles that some of our neighbors face. These relationships increase the social capital of the families in our program and help improve their access to resources that they either did not know about or did not have the confidence or tools to previously access. By working hand-in-hand with Family Liaisons, families not only have a mentor but a new support system championing their success.
Volunteers can also provide support by hosting donation drives throughout our program year. Some of the donation drives include: back to school supplies, essential baskets filled with toiletries and cleaning supplies (provided three times a year), holiday gifts and meals, and Weekend Food Packs, which are provided to children at our partner Title 1 Elementary Schools who live in food-insecure homes to ensure they have food to eat while school is out.
In an effort to comply with social distancing regulations, our donation drives can either be held virtually, with individual supplies sent directly to Families Forward Charlotte, or donations can be packed and assembled ahead of time (for bookbags or essential baskets) and dropped off.
We're grateful to Families Forward Charlotte for helping to reduce the impact of poverty on our neighbors. Learn more about how you can support them on their website.