Stories from Our Every Sign Up Tells a Story Giveaway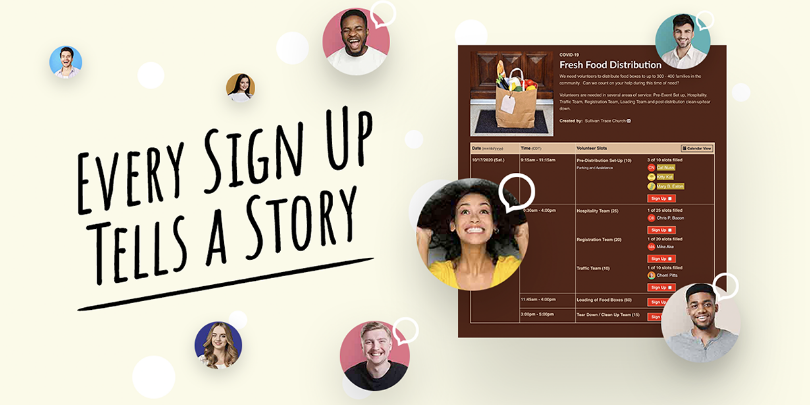 This fall, SignUpGenius hosted a $2,500 Every Sign Up Tells a Story Giveaway asking people to tell us how they or someone they know are giving back in their communities. We've received so many amazing submissions and randomly chose 25 entrants to win $100 each.
We have featured a few of the winners and their entries below.
My 14-year-old son is using SignUpGenius to organize and run shoe drives, packing and shipping of shoes, building out and painting a shoe collection box for his community. His goal is to help the underprivileged throughout the world by supporting the nonprofit Soles4Souls. He came up with this idea for his Eagle Project and has been actively using SignUpGenius to help him get volunteers and organize his efforts.
We are using SignUpGenius to schedule volunteers. I volunteer for Evergreen Animal Protective League and we recently automated scheduling of our cat room volunteers using SignUpGenius. We love animals and helping cats find their fur-ever homes!
We used SignUpGenius for participation in our book study, Courageous Conversations About Race in Schools. We had such an overwhelming response, we had to create a waiting list in the sign up too! This book study will help us explore case studies and systematic approaches to communication for change. It also establishes procedures for closing the achievement gap caused by racially driven decisions. Thank you for this platform. It was easy to integrate and share!
I volunteer with a very small nonprofit organization called Quakertown Community Outreach. It is run by a very dedicated couple, Dave and Karen Hammerschmidt, who are tireless in their efforts to help people in the Quakertown community. We provide resources, food, free clothing, funding for short hotel stays for the homeless, financial help for electric bills, car repairs, etc. We use SignUpGenius to organize meals for cancer patients, shut-ins or others who need homecooked meals. It is a wonderful organization, and I would like to nominate Dave and Karen for the gift card. They are very deserving not only for the work they do but they have also been struggling due to COVID.
 Amazing job, geniuses! You continue to change the world by organizing groups and we are grateful for you.