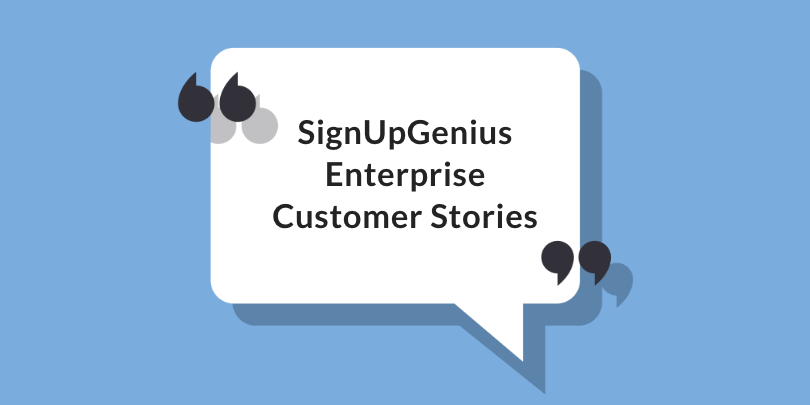 The SignUpGenius Enterprise plan offers a robust organizing solution for many businesses and corporations. Offering features from embeddable sign ups to custom portal pages to SignUpGenius brand removal, there are many features that go beyond our Premium plans and are scalable for powering group organizations.
To show you how functional these features are for a variety of uses, we are highlighting five of our customers and their experiences using the SignUpGenius Enterprise plan to streamline efforts for their various group needs.
Greater Westchester Youth Orchestras Association 
The Greater Westchester Youth Orchestras Association
is a nonprofit organization that helps young people develop self-esteem and promotes harmony in an ethnically diverse community through classical music training.  
Founded in 1953, the GWYOA consists of three orchestras made up of students in grades four through twelve from Westchester County, NY, and from the surrounding counties in the Tri-State area. All three of the orchestras perform winter and spring concerts each year at notable venues including Carnegie Hall and Lincoln Center in New York City. 
This organization is completely run by parent volunteers and needed a solution that was simple to use and allowed for multiple administrators. Enterprise has proven to be a perfect fit – making it easy for volunteers to schedule auditions while simultaneously allowing conductors to request in-depth information from the musicians when they are signing up. The use of unlimited custom questions captures additional information via custom form fields that a participant completes when signing up.
David Wentworth, GWYOA volunteer and Enterprise user, explained, "It is comforting to know that you are not being restricted by limited abilities when planning activities." 
Additionally, the multiple administrators feature provides administrative access and allows the organization to assign custom roles for sign up management within the shared account. Each administrator can be assigned custom permissions that limit their visibility and control within the account.  The simplified ease of use in our software means any new administrator can quickly learn the software and manage sign ups without the need for extensive training that is found in some softwares. SignUpGenius Enterprise balances ease of use with powerful software featurs for large-scale group organizing.
Sleepbus 
Sleepbus, an Australian organization
, strives to bring an end to people sleeping on the streets at night. Their mission is to "bring safe overnight accommodation to people sleeping rough." Currently providing up to 1,328,700 safe sleeps per year, the company uses buses to house 20 secure pods that are available in various locations for people who have nowhere else to go for the night.  
Nonprofits, like Sleepbus, use Enterprise for large-scale volunteer coordination. Sleepbus volunteers appreciate how an online signup solution has helped simplify company operations with easily accessible volunteer reports that are available on sign ups.  
God's Pit Crew 
The mission of
God's Pit Crew
is to bring hope, healing, and restoration to hurting people in crisis as a nonprofit faith-based crisis response organization. 
The team at God's Pit Crew schedules, manages, and communicates with over 1,200 active volunteers. SignUpGenius Enterprise allows the organization to effectively hold events in an organized and efficient manner through our sign up system.  
Since using Enterprise, volunteer support has increased, and communication with volunteers has improved. The ability to embed sign ups directly onto their website is a contributing factor to their growth by allowing volunteers to easily locate opportunities to serve directly on the organization's website. By showcasing the various events within the organization on a single landing page, everyone from staff to volunteers can stay informed and up to date with all the events that are taking place.  The page becomes the one stop location for all event management information.
Julie Burnett, a member of God's Pit Crew staff, shared her insight saying, "SignUpGenius has brought our team together with improved communication. All of our administrators can now see all of our events in one place." 
Kanuga Inn & Lodging 
Kanuga
is a non-profit, year-round Episcopal camp, conference, and retreat center that was founded in 1928. Their mission is to invite all people to connect with each other, nature, and the Creator.  
As an inn with multiple attractions, including complimentary recreational activities, organizing has never been easier than with SignUpGenius Enterprise. Guests can sign up for hiking, archery, crafts, bonfire with smores and much more — all through sign ups embedded directly on their website.  This way, the software operates as an extension of their own website - giving it the look and feel of their own software. 
Hosting all the available sign ups on a single landing page allows guests to easily locate all the activities that Kanuga is offering. This keeps the process streamlined and organized. Any forms can easily be posted on the landing page or directly in specific sign ups. The page is customized and designed to meet their organization's needs.
Wake County Public School System 
Wake County Public Schools
is the second-largest public school district in North Carolina. After noticing that their schools were overwhelmed with teacher absences and no substitutes, Wake County chose to utilize sign ups to solve the growing issue. Sign ups were created for every school and the dates that were reported for needing substitute coverage.  
The district Central Office is now able to monitor sign ups daily, which has simplified the process and allows for smooth communication. Wake County has also noted how helpful running reports has been to get a comprehensive understanding of each school and how sign ups are helping.  
These are all testaments that Enterprise can streamline large-scale systems through sign ups. Whether you are a major corporation or a nonprofit just starting out, Enterprise has customized solutions that will fit your group and event organizing needs.  
Start a conversation with our team today to learn more about Enterprise features and how they can fit your needs.