Our family got our first dog last month. Even though the kids had wanted one for a while, my wife and I had been putting it off, not wanting to jam any more responsibility into our already packed life. Can anyone relate? Well, recently the kids had started showing a little more responsibility around the house… and it was the summer… and so we made the plunge.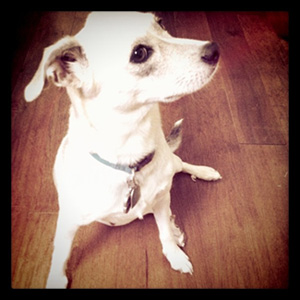 We picked out a rescue dog from a local agency. Some kind of mixed small-dog breed. Cute. Now I had dogs when I was a kid and my uncle bred dogs for a while and I've been around my share of pets. But I have never met an animal that loves people more than this dog. In fact, we named her Zilla, which is Hebrew for "little shadow" – because this dog follows you around everywhere you go!
When one of us gets up in the morning or come back from somewhere… the dog is just crazy to see us. When we go on a family walk, she darts around from person-to-person-to person, drinking in the fact that we're all there. When my wife or I are working at the computer, the dog just wants to sit at our feet and be with us. We joke that Zilla may have to go into counseling for co-dependency, because sometimes she won't even go outside to the bathroom without us walking outside with her!
But, you know – lately I've been thinking that Zilla may be understanding life a lot better than I do. I remember hearing a sermon at church once where the pastor was challenging us to invest in things that matter and said that "there are only two things in this world that last forever… the Word of God… and people." And while Zilla may not be able to study scripture (at least not in the original languages...), she surely understands the last point. It is a mind-blowing gift to be able to have PEOPLE in our lives. Each person is a unique, hand-crafted treasure created by God with gifts, dreams, experiences, and passions. To be able to encourage, know, serve, teach, talk, laugh, cry, worship, play, or just BE with a person is an incredible privilege.
How many times do I miss cherishing or investing my time in the people God has given me? I rush off to work so I can stare into a computer screen. I come home and brush off my kids because I've got too many tasks to finish around the house. God forbid… were something tragic to happen today and I get a phone call that someone I love is never coming home… would I have missed all those moments and be filled with regret? Somehow… I have a feeling that Zilla would never have regrets.
So I think next time my kids come home from school… or my wife comes back from the store or something… I'm going to go a little ballistic. Go a little crazy jumping up and down. Follow them around the house. Sit at their feet. Just BEG for a chance to be with them. I might even bark.
Who says you can't teach an old dog new tricks?