Summer Deal: Save More with an Annual Premium Plan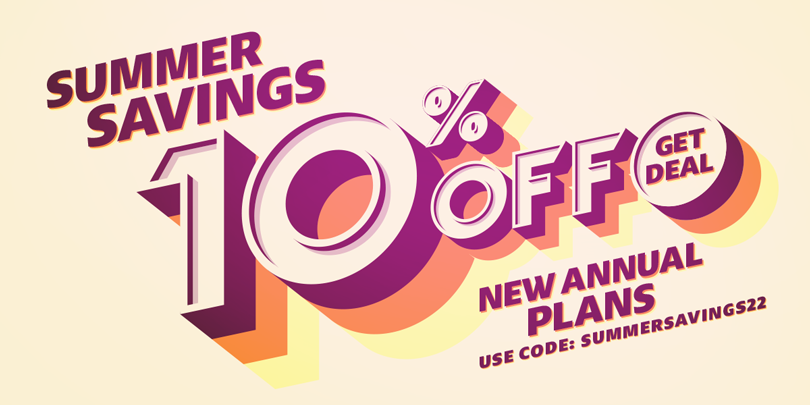 Save 10% on annual premium plans and access advanced features in time for summer planning! From company picnics to ice cream socials to volunteer events, grab this deal and stay cool as your organizing and event planning heats up. 
Upgrade today and save 10% on annual plans. That's over 30% off when compared to our monthly plans! Use code: SummerSavings22 before it expires on June 15, 2022.
Don't miss out on this deal. Get useful features to help better power your sign ups. Here are 10 ways to take your organizing to the next level with our premium plans: 
Exclusive sign up designs - Get access to multi-image themes and organize your summer events in style.  
Ad-free sign ups - Keep your audience focused on your events by removing ads from sign ups. Get ready for people to buzz about your sleek-looking sign ups. 
More custom questions - Collect important details from your participants by adding multiple custom questions to your sign ups. Request important information like their t-shirt size, meal preference, favorite Star Wars movie, or whatever you need to know for your event. 
Share organizing responsibilities - Share the load of managing sign ups with our multiple administrators feature. You can customize and assign levels of permission to each admin.  
Tabbing - Combine multiple sign ups in one location with tabbing, one of our most popular features! This is an easy way to share all your events so people can review available opportunities.  
Custom notifications - Create custom confirmation and reminder emails to communicate important information - like the tropical theme for your summer bash. 
Attach files - Share important documents with your participants by attaching files to notification emails. This feature comes in handy to share permission slips, health forms, waivers and more.  
Lock sign ups - Prevent last-minute changes to your sign up with this feature. Lock your sign up to keep group members from either signing up or changing their commitment after a specified date.  
Limit sign up quantities - Make sure there are enough opportunities for everyone by limiting the number of slots each person can sign up for. You can restrict the number of items someone can sign up for on individual slots or across the entire sign up. 
Volunteer reports - Track the hours that your superstar volunteers spend serving your organization. This feature is included with gold level premium plans and higher, giving you more insight on the time people dedicate to supporting your group. 
Simplify your organizing with powerful premium features, so you'll have more time to spend in the sun! What are you waiting for? Get started with a premium plan today.