SPECIAL OFFER: Start the New Year with More Organizing Power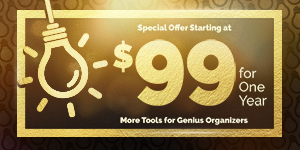 The fireworks have faded, the ball is dropped and resolutions are made. As you dive headfirst into 2018, SignUpGenius is here to equip you with more tools for simple group organizing. For a limited time, get our best annual deal on our premium plans — starting at just $99 for a year. With our advanced tools, you can:
Power organizers like you know the value of efficiently planned groups. Boost your productivity with these advanced tools and give yourself more time to do even more good.  
Hurry! Deal ends February 14, 2018.