Look Who's Talking!

SignUpGenius was recently featured in Business North Carolina magazine as a "NC Trend." The piece highlights our founders, shares about recent company growth, and tells about how our site helps groups get organized.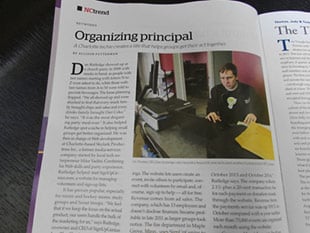 Read the full Business NC article HERE. 
Though getting media coverage is swell, it's the words from our users that really hit home. Here's what others have had to share lately: 
"Wow, this site is amazing! I've used it for a few years but this year we upgraded to Pro and it has been a game changer for our school! Being able to have that summary page with all the school sign ups together and being able to have multiple admins is well worth the cost of the yearly membership. Each time I think it would be nice to have this feature or that feature, I find that you are already way ahead of me. Thank you so much for all you do!!!" - St Joseph's Catholic School, Moorhead, MN 
"I am a HUGE fan. I am a second career nurse in northern Virginia at a large teaching hospital where I work on the labor unit with 120 fabulous coworkers. The nurses have to "sign up" for 8 hours of "call" each schedule of 4 weeks. After 2 months of getting the staff prepared mentally for "online call" I'm pleased to say our maiden voyage was a huge success...peace reigned on the west side where the paper sign up used to be. All 84 nurses signed up within 24 hours - unheard of. Thanks SUG. I'm a fan forever." - Max Engler, Burke, VA 
Thanks for using SignUpGenius! Have something to share? Drop us a line.