Genius Summer Jobs: Where We Got our Starts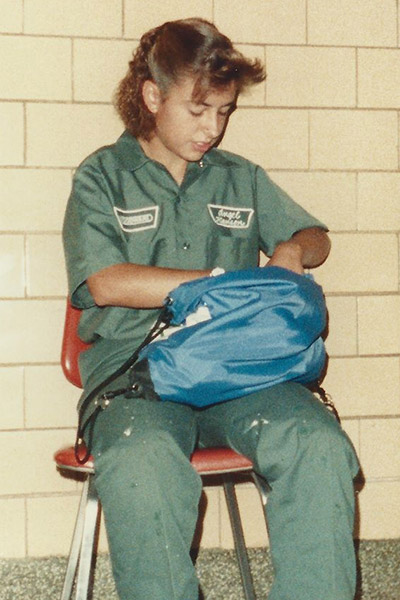 Do you remember your first summer job? Whether you fried up food in a restaurant or changed diapers as a babysitter, those (often smelly) minimum wage monstrosities surely taught you the value of hard work — and provided some pretty good stories in the meantime. 
Here are the funny, silly, and most importantly, true, stories of our first summer jobs! After all, even genius organizers have to get their start somewhere. 
The (Not-so) Glamorous … 
"My first job was being part of a yard maintenance crew for a factory. We were not allowed to use power equipment, so I spent most of my summer clipping grass around flowerbeds with hand clippers. Picking cigarette butts out of rock beds in the parking lot and painting chain-link fences were my other duties." — Angel Rutledge, Genius COO, CMO
"My first summer job was working at McDonalds. The most memorable day on the job was when McDonald's celebrated their anniversary by offering 10-cent hamburgers. It was a Sunday shift and there was no limit to the number of burgers customers could order. It was the craziest day of work I have ever experienced; I am sure I will never see that many hamburgers ever again in my lifetime! " — Teresa Clark, Genius Senior Support Analyst
"I worked at Dairy Queen. I especially loved making the dipped cones and perfecting the perfect signature DQ swirl on top of the ice cream. Thankfully I had better metabolism at that age, as I must have eaten a peanut butter parfait once a day for the entire summer." — Kate White, Genius Marketing Strategist
The Funny … 
"My first "summer" job was at Robby's Sporting Goods. On Christmas Eve I could sell anything to anybody. I sold many size XL workout outfits to men whose wives were size small (sold out by then) just so they'd have something under the tree.  Wonder how that turned out on Christmas morning?" — Amy Tidwell, Genius Senior Support Analyst
 "My first summer job was as a plumber's helper. Being young and new, one of the days during my first week, the plumber I was helping told me that since we didn't want to waste money I needed to go get the 'pipe stretcher' from one of the other plumbers. In hindsight, that's pretty ridiculous; but as a young kid trying to impress people at a new job, I proceeded to travel up and down five stories of a half built hotel for a good 30 minutes, asking all the crew members, before realizing that I was being messed with." — James Bulas, Genius Developer and Testing Analyst
 "My first summer job was at Chick-fil-a when I was 15. It was my first official job and I was terrified and excited! I had a blue N'SYNC watch that played their popular songs with the press of a button and it would go off all the time and make the customers and my coworkers laugh endlessly because I would jam out to the music." — Katie Bobo, Genius Operations Assistant
Whether they started off flipping hamburgers, twirling ice cream cones or somewhere in between, we sure are grateful this group of geniuses ended up here at SignUpGenius! Plus, now we know who to go to when the kitchen sink acts up.