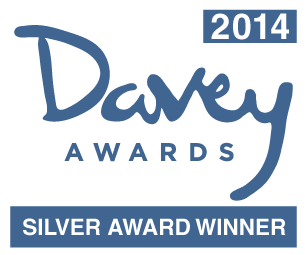 It's always an honor to be recognized for the hard work and commitment that goes into developing our site. But the fun part is sharing our successes with the people who make what we do possible - YOU! You have chosen SignUpGenius as your go-to one-stop-shop for organizing, and we are ever thankful.
We recently received news that SignUpGenius has been chosen as a 2014 Silver Davey Award winner by the Academy of Interactive and Visual Arts. The Davey Awards honors the finest creative work from the best small companies worldwide. Nearly 4,000 entries from across the US and around the world were submitted this year.
"To be chosen for such a prestigious award is a great encouragement to our entire team at SignUpGenius," says Dan Rutledge, CEO. "This validates our efforts to stand out as a company that delivers excellence in every area."
The Davey Awards is judged and overseen by the Academy of Interactive and Visual Arts (AIVA), a 600+ member organization of leading professionals from various disciplines of the visual arts dedicated to embracing progress and the evolving nature of traditional and interactive media. Current IAVA membership represents a "Who's Who" of acclaimed media, advertising, and marketing firms including: Code and Theory, Condé Nast, Disney, GE, Keller Crescent, Microsoft, Monster.com, MTV, Push, Publicis, Sesame Workshops, The Marketing Store, Worktank and Yahoo!, and many others.
"This year's Davey Award winners truly embody the idea of small firms with big ideas. The work entered into this year's competition reflects a smart approach to creativity that highlights the capabilities and talents of small agencies worldwide," noted Linda Day, Executive Director of the Davey Awards.
By making October 2014 another record-breaking month for SignUpGenius, you, the user, are making it clear that online sign ups are crucial to your everyday organizing! Join us in celebrating this fun award and thank you for allowing us to keep creating and enhancing our services.