SignUpGenius Receives Communicator Award

We've been busy behind the scenes here at SignUpGenius, with our goal to bring you the newest features, upgrades and tools to make your life as an organizer easier. What a thrill it is to be recognized for all of that hard work! We are excited to announce that SignUpGenius has been selected by the International Academy of Visual Arts as the winner of the 2013 Communicator Award of Distinction for Web Applications/Services.
"It's our ongoing mission to provide our users with the simplest, easiest, and most powerful organization tool in the world. We're honored to be recognized for our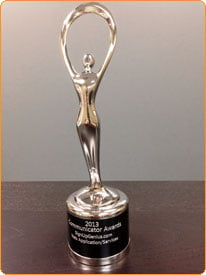 efforts by the top industry professionals at the Communicator Awards," says Dan Rutledge, President of SignUpGenius.
With over 6000 entries received from across the US and around the world, The Communicator Awards is the largest and most competitive awards program honoring the creative excellence for communications professionals. The Communicator Awards are judged and overseen by the International Academy of the Visual Arts (IAVA), a 600+ member organization of leading professionals from various disciplines of the visual arts dedicated to embracing progress and the evolving nature of traditional and interactive media.
The staff at SignUpGenius would like to say thank you to the International Academy of Visual Arts and The Communicator Awards for this distinct honor and award.