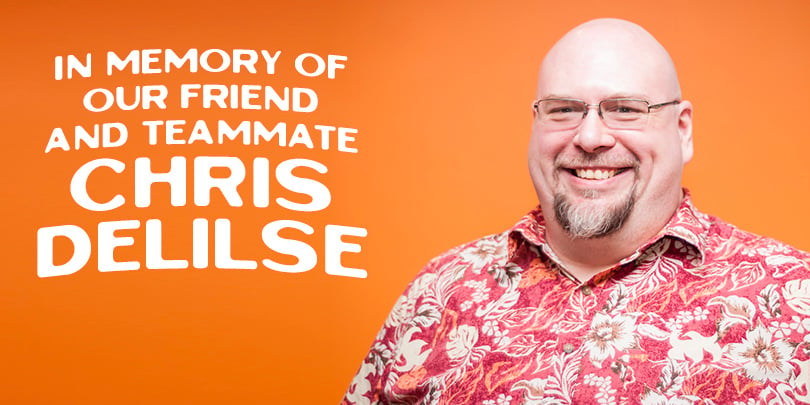 Our SignUpGenius team includes employees who have helped grow the company since the beginning. Fueled by countless cups of coffee, the individuals in our tight-knit group have embraced wearing many hats and many SignUpGenius t-shirts over the years. We have recently found ourselves grieving after the sudden passing of one of those longtime employees, senior software developer Chris DeLisle. Chris was a friendly face, a wealth of knowledge, and a willing teammate always ready to help. He also played an important role in developing many key SignUpGenius features our customers rely on, from online payment systems to administrative support tools.
After SignUpGenius expanded with the launch of Lumaverse Technologies, Chris embraced the mission to empower people to change the world, together. He thrived on the challenge of creating new technology, bringing his expertise and thoughtful approach to every project. He left his mark on our product as well as our people. 
Chris had a passion for gaming – video games, board games, he loved to play it all. Our team loves friendly competition, and we got to see Chris' skills in action during an office Mario Cart tournament and when playing the online word game, Code Names. He was a founding member of Empire Games, a company that makes fun and exciting card games, and loved attending events like Comic-Con in his free time.
Last month we gathered together as a team to remember Chris and play games he enjoyed. Here we've collected the thoughts of three team members Chris worked closely with, as they share why he was such a special part of SignUpGenius/Lumaverse, and what they'll always remember about him.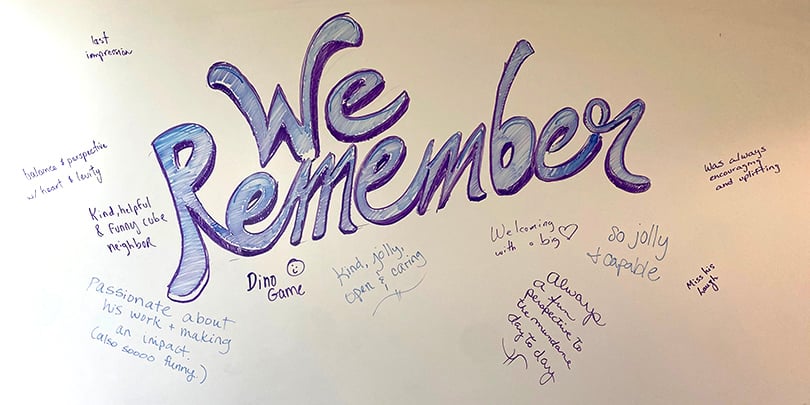 Jojo Serquina, Directory of Technology 
In his obituary, Chris was described as a gentle giant -- and rightfully so. He was a big guy, but very kind and had almost a shy demeanor until you got to know him. His witty responses, puns, and his Zoom or Teams backgrounds were all done to make us smile or outright laugh each time. 
Coworkers at SUG knew him to be lighthearted and thoughtful, often following up on projects long delivered, making sure his work and contributions are making a difference to everyone who is using the product. 
Amy Tidwell, Agile Project Manager 
I was blessed to work closely with Chris for 6 years. There are many things that come to mind when I remember Chris, but some of the highlights include the following: 
A hearty good morning
A mischievous grin
A SUG t-shirt on his back 
A thoughtful mind; slow to speak and quick to listen 
A great meme 
A different virtual background every day
A cat entering our meeting 
A giant heart and a kind word 
Humility and immense intelligence 
Chris' kindness is truly what touched my life. His example has challenged me daily to question myself and my motivation. Was my last conversation with Chris kind? Is kindness at the forefront of my mind when I interact with others?
Betsy Lytle, Agile Business Analyst 
Chris always had a smile on his face and a great sense of humor. He was easy to talk to and readily shared his knowledge with others. During the last week I worked with him, he shared a tip with me on a better way to do something that I've benefitted from ever since. He also was very steady under pressure and never seemed to let anything stress him out, a good example to follow!  
His valuable contributions at SignUpGenius are seen everywhere on the site, with his last major project being the new LumaPay payments processor. He will be greatly missed by myself and everyone else who knew him. 
Final Words 
Our team makes constant decisions that can empower others with our work, our words, and even our smallest or seemingly insignificant interactions. Chris was a great example of how one person can make a difference in the lives of others, as he put a little of his "genius" into all he did. Thanks, Chris. You'll always be part of the SignUpGenius team, and forever be remembered.