We have a winner!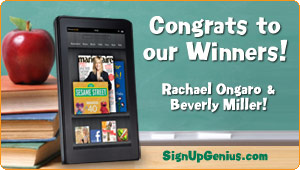 Please join us in congratulating the winner of the SignUpGenius Back-to-School "Favorite Teacher" Giveaway, Rachael Ongaro, as well as her Favorite Teacher nomination, Beverly Miller.

When entering our Back-To-School giveaway, Rachael could not have thought of a more deserving teacher. Mrs. Miller has taught kindergarten for 25 years, and has been at her current school, Timber Ridge Elementary in Cobb County, GA, for 22 of those years. When we asked Ongaro about why she chose Miller, she shared that Mrs. Miller is "exactly the kind of teacher you would want your child to have in Kindergarten."


Rachael continues, "[Mrs. Miller] is loving, caring, gentle but keeps the children all focused and under control. Even though she is a very experienced teacher she changes up her teaching methods and is up to date with all the current technology and uses it in the classroom. My third and youngest daughter is in her class this year and we could not be happier!"

We were pleased to find out that the parents in Mrs. Miller's class use SignUpGenius.com to organize classroom volunteers. As a Room Rep this year Ongaro has already used the site to coordinate kindergarten sign ups. "The best part to me is after you create an event, SignUpGenius does the rest! Emails me when people sign up, sends out reminders! I feel that people don't feel I'm bugging them to volunteer for events, because SignUpGenius covers everything!"

Beverly Miller was touched by the "Favorite Teacher" nomination, saying, "I treasure the kind words given by a parent. Kindergartners are so eager to learn and are excited about school. I enjoy teaching children and feel honored to be rewarded for it."

Both Ongaro and Miller have won the new Amazon Kindle Fire HD. Congratulations and thanks for using SignUpGenius!