Providing resources children need to succeed is important to us, so this fall we set out to give one school a serious boost in our Back-to-School Boost Giveaway. To all who entered our giveaway, THANK YOU! In our most successful contest to date, we can see that giving back to schools is important to you, too.
We are excited to announce our WINNING SCHOOL: 
Clara Barton Elementary School
in Oxford, MA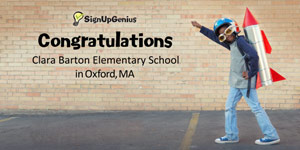 PTO member and parent Melissa Nowak nominated Clara Barton Elementary and her entry was chosen in a random drawing of over 20,000 entries. Nowak says she had several school needs in mind when she entered, and is excited to see them come to fruition.
Clara Barton Principal Stephen Baroni, who admits he "never wins anything," saw his luck change this week with the news of this great reward. "Everyone at Clara Barton is so excited. The money will be put to good use," he says. "We are planning on purchasing books for our school library, and some of the money will be put toward new playground equipment. I have wanted to buy new swings for the children for some time now. This money couldn't have come at a better time for us. We are so grateful to SignUpGenius."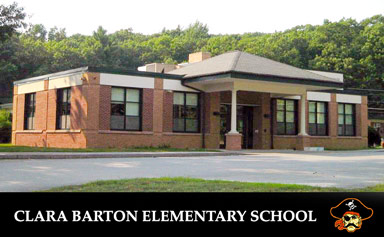 SignUpGenius matched the giveaway with $5,000 in donations divided among four additional recipients. We gave $2,500 to support schools in Liberia, and in our hometown Charlotte, we gave $1,500 to Brookstone Schools to help sponsor a child's education, $500 to Community House Middle School's dance program, and $500 to Sterling Elementary School's Scholastic News initiative.
To find out more about our commitment to give back, please visit our Giving Back page.