100 Graduation Gift Ideas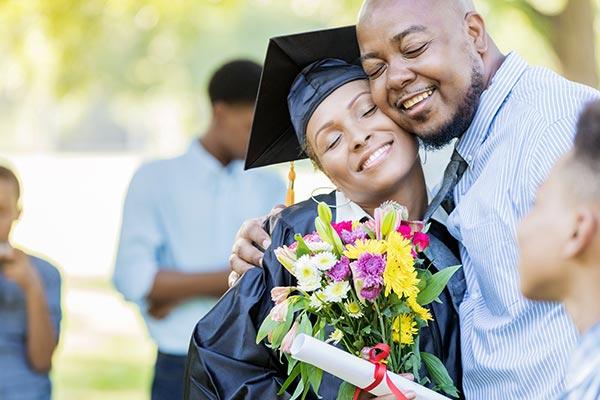 Graduation is a massive milestone whether it's from high school, college or beyond. Students often walk across the stage and straight into the next phase of their lives. Here are 100 gifts to help them on their journey, whether they're headed for another campus or out into the real world.
For High School Grads
Cash and Cards
Cash or Checks - Usually considered the best gift, it's sometimes fun to include instructions to earmark your financial contribution for something specific, like textbooks or even a dinner with new friends.
Eat Well - Give the graduate a variety of gift cards for restaurants in the student's college town.
Fuel Up - Gas cards for fuel make the perfect gift for grads to use on road trips or for travel from campus to work.
Get Moving - Provide a year of bus or train fare to enable easy transportation around their college city or to visit out of town friends.
School Spirit - College bookstore gift cards make a spirited gift and allow the grad to pick out their spirit wear.
Pamper Them - Consider giving a salon, pedicure or spa gift card to help them unwind before starting school again.
Big Box Store - Give a gift card (think Walmart or Target) where the graduate can get just about anything they need.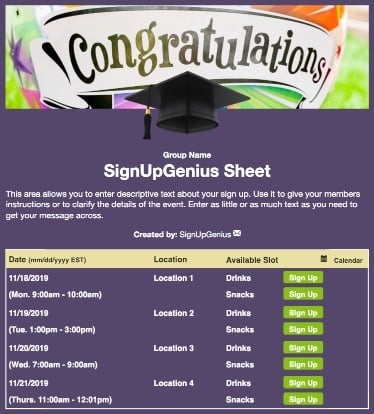 Paper Goods
Textbooks for College - Imagine how happy the graduate will be in the checkout line to find out you've already called and footed the bill.
Custom Diploma Frame - Offer to get the grad's diploma nicely framed, or purchase them a frame they can use.
Simple Cookbook - Provide a cookbook for easy recipes. Keep in mind many residence halls don't have a stove.
Concert Tickets - Do your research to see when some of the grad's favorite bands are touring near their college town, and give them a concert study break!
Wall Calendar - Pick one with large spaces, or even a wipe-off variety to keep track of important events, bill due dates and to-do lists.
Monogrammed Stationery - This will come in handy for writing thank-you notes.
Stamps - Huge book of forever stamps for sending thank-you notes or letters back home.
Pen or Pencil Set - Always a necessity, whether they're moving on to a college lecture hall or a full-time job.
---
Plan a graduation cookout potluck with a sign up. View an Example
---
Dorm Survival Necessities
Furniture - Give a gift card to a local home store or an online site to furnish their dorm room.
Light - High-quality flashlight or lantern for the inevitable dorm power outages.
Coffee Maker - If your grad is a coffee lover, you can even splurge on the kind of coffee maker that can be scheduled the night before and also serves as an alarm clock — what better way to wake up than to the smell of fresh caffeine?
Key-Finder - The graduate can attach a "Tile" to keys, wallet or other important items and use a smartphone to locate them in the chaos of the dorm room.
Subscribe Them - A paid music subscription or a TV streaming service makes a practical graduation gift.
Shower Caddy Kit - Fill a plastic shower caddy with the essentials and don't forget the flip flops!
Luxurious Towel Sets - Have them monogrammed to discourage kleptomaniac roommates from snatching.
Laundry Service - Let them skip the coin-operated machines and have a professional pick up their dirty laundry and return it washed, dried and folded.
Filtered Water Pitcher - Dorm water is notoriously funky-tasting, but a filtered pitcher that can fit in a compact fridge might encourage the graduate to drink more water and less of everything else.
First Aid Kit - This practical gift should include all the basics like tweezers, Band-Aids and a thermometer.
Disposable Utensils - Plastic dishes and cutlery in bulk make a fantastic "real life" gift. Include a roll or two of paper towels.
Additional Ideas
Coffee to Go - Gift your grad an insulated coffee mug for keeping drinks warm (or cold) during their walk to class. Want to take it up a notch? Get them a "smart" temperature-setting coffee mug or a mug with a funny saying.
Voice-Controlled Assistant - Like an Amazon Echo or Google Home. These can do everything from play music to act as an alarm clock for a sleepy student.
Clothes for College - If the graduate is headed somewhere chilly, they may appreciate a scarf or a nice pair of gloves. And if they are headed somewhere warm, a pair of sunglasses and a hat would make a fun gift.
Portable Charging Station - This will come in handy when all the outlets in the library are taken, or give them an uninterruptable power supply (UPS) to charge their laptop if the power goes out.
High-Quality Headphones - For listening to music or podcasts on the way to class. Splurge on a noise-cancelling option to eliminate distraction and keep the grad focused on that final paper.
Hammock - Isn't studying better while swinging in a relaxing, picturesque spot? Sunday afternoon naps are also restful in a hammock.
Flowers and Plants - Give the graduate a fresh bouquet to celebrate, or gift a small potted plant they can take along for their next life adventure.
Cute Clear Handbag - If the graduate is going to a big sports college, she might not be allowed to take her regular purse into the stadium because of security concerns. Luckily there are tons of cute clear bags on the market today.
Gear - A T-shirt or equipment with the graduate's college logo will always be a winner!
Sturdy Backpack - Gift the graduate a gift card to purchase a dependable backpack for daily carrying. Want it to last for years? Make sure the store offers lifetime warranties on their products.
Big-Ticket Items
Cycle to Class - Give him or her a new bike to get around campus. Include a bike lock and a water bottle that secures to the frame of the bike.
Tech - Gift the graduate a laptop computer or a tablet for note-taking.
Graduation Trip - Have the graduate set up a crowdfunding site so interested parties can contribute directly to their trip. Gift them a fun experience or cover their trip lodging.
Car - Rally a group to contribute to a car fund for the graduate to give a gift that is both practical and luxurious.
---
Collect donations for a group gift with a sign up. View an Example
---
For College Grads
Subscriptions
AAA - Roadside assistance memberships like AAA are golden for use in "real life" situations like running out of fuel or when the car battery won't start.
Give Prime - Provide all the benefits of an Amazon Prime membership without the cost.
Ready Meals - Give a gift card to your favorite meal service and pair it with your favorite hand-written family recipe.
Coffee - Sign your graduate up for a monthly coffee service or give a coffee shop gift card.
Catch a Ride - Give an Uber or a Lyft gift card to help them get from point A to point B.
Warehouse Store Membership - Now officially out of a tiny dorm or apartment and into their adult life, the graduate will likely appreciate the fiscal responsibility of buying items like paper towels in bulk.
Photo Printing - Give a photo print gift card to encourage the graduate to get all the photos off his or her phone and onto paper. Also, consider including a gift card for a "make your own photobook" site.
Paper Goods
Life Skills Reading - Find a good book on simple car maintenance and repair to gift to the graduate. Consider including a gift card for a car parts store where they can purchase supplies.
Financial - Books on financial skills can be a life-saver. Take it a step further and give a voucher to meet with a local financial planner, or pay for them to attend a financial seminar.
Famous Eats - Give the gift of a fun and zeitgeist-y cookbook by a celebrity or an experienced chef.
Journal - If your college grad processes through writing (which is always good in the big post-grad transition), make sure they never run out of writing material by gifting them a journal.
Tools to Plan Ahead - Pick out a professional-looking planner for them to use in the year to come.
Digital Reading - Tablet or E-readers make excellent gifts for busy book worms. Include a gift card for amazon, audible or iTunes media.
Newspaper - Give a print or digital subscription to a local or national newspaper for your grad to stay current.
Shadowbox Frame - Pick out a large shadowbox frame for them to display their cap, degree and tassels.
Photo Album - Gifting photo albums or frames encourages graduates to showcase their college memories including photos from their graduation day.
Additional Ideas
Luggage Set - Consider this practical idea, especially if your graduate is an adventurous world-traveler, but even for everyday domestic travel luggage pieces are necessary.
Scented Candles - Add some cozy ambiance to the graduate's new home or apartment with scented candles. Often dorms do not allow candles so a scented candle will be a special treat post-dorm life. Not sure where they will live? Choose battery powered candles to use anywhere.
Exercise - Give the gift of activity by offering to fund your graduate's next work out experience, whether it be yoga classes, cross-fit, a monthly gym membership or participation on a seasonal sports team.
Drinks - Give a bottle of sparkling juice, champagne, wine or another adult beverage for the graduate to enjoy.
Wrist Watch - It's more professional to check the time on your wrist than on your smartphone. Do you want to upgrade their watch? Consider a smartwatch.
High-Quality Vacuum - We know the graduate probably spent less than ten total minutes cleaning their dorm room, but adult life requires a vacuum. Pick a model that's light and comes with several different functions to make cleaning more fun. Or choose a robot vacuum!
Nice Camera - Is your graduate a creative person? Consider purchasing a professional-style camera for still and video creation.
Designer Wallet - Give a gift card for the graduate to choose what will likely be their very first designer wallet.
Upgraded Hair Dryer - The student has probably had the same hair dryer since freshman year and wouldn't think to spend the money on a new one for him or herself.
Jewelry - Give the graduate a special piece of jewelry to remember the occasion. This can be a family heirloom, a handmade item or a shiny new piece from the jewelry store.
Back up for Tech - Help them back up their files with an external hard drive or a cloud storage service subscription.
Wireless Speakers - Give their music some real oomph. It doesn't take a big Bluetooth speaker to produce big sound.
Travel Accessories - High-quality passport holders are useful for personal and professional travel.
Tool Kit - Based on their level of skill, give them a starter or an advanced toolkit for home improvement projects.
Yoga Mat - Pair the mat with accessories like a custom towel, blocks and even a yoga strap to use while stretching.
Instant Pot - This small, multi-use appliance will come in handy for solo and small-batch cooking.
Small Blender - Choose a small, single-serving blender that is easy to clean and pair it with a smoothie recipe book for quick morning meals.
Briefcase - Time to upgrade from the worn-out backpack to a professional leather briefcase, purse or shoulder bag.
Cold-brew Iced Coffee Maker - A cool (no pun intended) luxury appliance most college students couldn't afford to pick up for themselves.
Travel Kit - Pick up a masculine leather grooming kit, also known as a dock kit, and beard oil if he has facial hair. Beard trimming tools also work well as a gift.
New Shoes - Is your graduate training for a race? Running shoes. Getting ready for a job interview? Dress shoes. Depending on the person gift them a pair of high-quality new shoes.
Branded Utensils - Serving ware with an insignia from the graduate's alma mater make for an excellent, spirited gift. Some schools also make barbeque tools with logos on them such as branding irons for hamburgers.
Vitamin Box Membership - Many supplement companies offer personalized vitamin boxes that can be delivered straight to your door each month — a great option for a graduate who's ready to leave the college lifestyle behind and start taking care of him or herself.
Clothing Hangers - High-quality wooden hangers for business professional wear look classy and keep clothing neat.
Cufflinks - A perfect gift for wearing to weddings, graduation, conferences and other special occasions.
---
Coordinate graduation volunteers with a sign up. View an Example
---
For Post-Graduate Grads
Work Clothing - Gift cards to business attire stores will help jump-start the graduate's professional wardrobe.
Grocery Delivery Membership - Doorstep delivery is a plus for busy professionals. Choose an option that delivers from a variety of stores in the graduate's neighborhood.
Soothe Sore Muscles - Put together a care basket for the days where sitting at a desk all day, training for a race or long days of air travel cause tension or muscle pain. Include essential oils, Epson salt, heat pads, hot and cold gel or a TENS unit to relax sore muscles. Gift the graduate an ergonomically-friendly keyboard and mousepad for a productive and pain-free workspace.
Business Card Holder - Get the card holder monogrammed with initials, or engraved with a keepsake message.
Reading Material - Give the graduate a magazine or trade journal subscription so they can stay current on information relevant to their field of study.
Coffee Mug - Make a unique coffee mug featuring the graduate's new letters: Ph.D., MBA, MA, Ed.D, etc.
Sound Machine - A big-time job requires big-time sleep. Pick a high-quality white noise machine to drown out the distractions so the graduate can get some restful zzzzs.
House Cleaning Service - Treat the graduate to a monthly or quarterly housecleaning service for a full year! They will thank you for it again, and again.
Massage Gift Card - Essential for unwinding after the stress of defending a thesis or a busy workday.
Desk Games - Give the new professional a small game or two for their desk at work.
Golf Tees - Choose ones in the graduate's school colors! These are great for using while making business deals on the links.
Fun Work Socks - Give your graduate a fun pair of work socks to show off a touch of personality in the corporate business world.
Money - Give cash or checks to help pay off student loans, cover moving expenses or providing extra cash for an upcoming trip.
Paid Social - Give one year of a business social networking site like LinkedIn Premium to use while job searching and connecting with other professionals.
Cooking Class - Give the gift of food! Pay for the graduate to choose a cooking class and learn to make a meal or two for others.
Resume-Building Service - These valuable services design resumes, offer cover letter templates and even create LinkedIn pages for job-seeking professionals.
Season Tickets - If they have a favorite sport from their alma mater, give the graduate season tickets.
Outdoor Supplies - Give the gift of adventure with high-quality camping and backpacking supplies including an engraved Swiss army knife, go pro camera and a gift card for an outdoor sports retail store.
Money Down - Money toward a down payment on a home or condominium, or a month of rent.
If you have something in mind that's bigger than your budget, consider going in with other people to upgrade your gift. No matter how much you want to spend, you can find a fun and unique gift the graduate will appreciate for years to come.
Sarah Pryor is a journalist, wife, mom and Auburn football fan living in Charlotte, N.C.