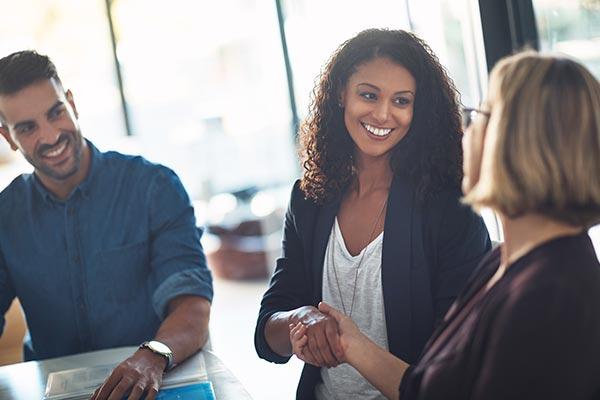 Job interviews are an excellent opportunity to work on your public speaking skills and share experiences from your professional journey. This article offers 25 questions for prospective employees to ask companies, as well as 25 questions for the hiring team to ask of the candidate.
Questions for Prospective Employees to Ask Companies
Job interviews can be intimidating, but remember that you are interviewing them as much as they are interviewing you. You want to use this time to answer questions to help them get to know you, but also for you to gauge if this is a place you want to work.
What are the company's values? (Make sure to read the mission statement and website copy before your interview).
What areas are the company working to improve, and what areas do you see future room for improvement?
What is a unique aspect of this company or something that an outsider wouldn't know?
When did you start working here, and what has motivated you to stay? Tell me what you enjoy most about working here.
How would you describe the company culture? Does the company provide a channel for employee feedback? Can you give an example?
What are the big picture goals of the company? What are the company's biggest challenges in meeting these goals? How does this position contribute to the success of the company?
Who is the company's biggest competitor and how does that push this organization to be better?
Who will I be working most closely with? Tell me about the team. Additionally, what personality attributes would be a good fit for this role and the chemistry of the team?
What makes you think I'm a good fit for this job? What about my resume stood out to you?
Do you have any concerns about my background or areas you think I would need to work on and improve?
---
Manage conference room reservations with a sign up. View an Example
---
What is your leadership style? Or the leadership style of this position's supervisor?
What do ideal professional development opportunities look like for this role?
How do you measure goals and success for this position?
What is the most challenging aspect of this job? What personality characteristics and skills will help one overcome these challenges?
What is the best part of this job?
How can I expect to grow in this role? (or: What would a typical career path look like for someone in this role?)
How often do performance reviews take place?
What incentives are there for this job and this department?
How does the organization give back to the community? For example, how does the company handle corporate giving? Can employees give feedback or matching gifts?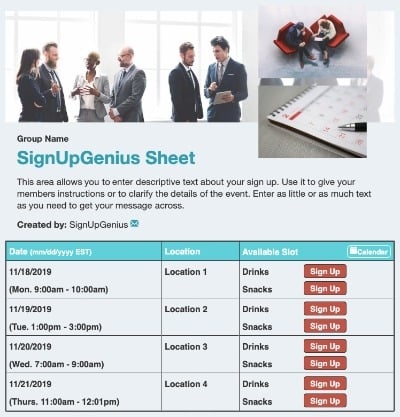 How is information shared within the company? Revenues, impact, costs, metrics, etc. Is it easy to find or obtain this information, or are some areas more limited than others?
What is the seasonal rhythm of the company? Is there a time of month or year where there is more work than others? What does this look like for the team?
What is the meeting culture of the company? How many meetings are there per week in this role?
What is the email volume for this role? Minimal? A lot? What is the average email expected return time? Additionally, are there corporate apps used for instant messages or project collaboration? If yes, what is the expected response time?
Who are the role models in this company? What makes them stand out?
Are there employee engagement activities? If so, what event is your favorite?
Applicants, do your research about the company and carefully read the job description before the interview so you can make notes and plan the exact questions you want to address. A well-researched interviewee is impressive and will stand out to the future employer.
---
Schedule end of project exit interviews with a sign up. View an Example
---
Questions for Employers to Ask Interviewees
Use these questions when hiring future employees or leading an interview committee tasked to interview candidates. Some people interview really well, but then don't perform well in the role — and the opposite can be true as well. Consider using these questions to look for areas of competency, maturity, resilience and self-awareness.
What is the most significant risk you've taken and what did you learn from it?
What kind of oversight and direction would your ideal supervisor provide?
How can a supervisor best support and motivate you?
How closely do you like to work with your coworkers?
What interests you most about this position?
What experiences have set you up to succeed in this role?
How do you feel your background and skill set will contribute to the company's overall mission and vision? This will tell you if they did their research on the company.
How do you develop your professional knowledge?
If you could designate an employee gift through our corporate giving program, what cause would you support?
What was your most significant achievement at your last job? Note: If they are fresh out of college and haven't worked full-time, ask about a school accomplishment or how they contributed to their part-time job.
What types of people do you most enjoy working with, or who did you most enjoy working with at your previous position (or on a school project) and why?
What types of people do you have the most difficulty working with and why?
---
Coordinate interview time slots with a sign up. View an Example
---
How do you handle conflict when it is unavoidable?
How do you handle stress and pressure?
If you could correct one misconception people have about you, what would it be and why?
What was your process of preparing for this interview?
What previous job(s) have you enjoyed the most and why?
What previous job(s) have you enjoyed the least and why?
What do you enjoy doing most in your free time?
If you could solve any world problem, what would it be and why?
What skills or areas would you like to grow in?
If you could go back to school for an advanced degree, what would it be and why?
If you have a free hour, how do you like to spend it?
How have you grown/changed the most in the last year?
Can you describe what your dream job would look like?
These questions combined with your role-specific questions will help you to evaluate future employees and better understand their personality throughout the interview process. As the interviewee answers, gauge how well they fit the job description as well as the company culture.
Andrea Johnson is a native Texan now living in Charlotte, N.C., with her husband and two daughters. She enjoys running, photography and good chocolate.