Schedule Basketball Team Snacks, Volunteers, and Parties... FREE!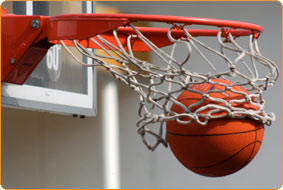 SignUpGenius is a FREE online tool for managing all of your basketball sign up lists.
With SignUpGenius, a coach or team parent can easily create free online basketball signup sheets to manage your booster club, organize parent volunteers for games or practices, or create a concession stand staff list. With great-looking templates and automated email reminders... it's quick and easy to get your athletes and their families involved! Hundreds of coaches agree... SignUpGenius is the perfect way to jumpstart your basketball season!
IT'S EASY TO SET-UP, EASY TO SIGN-UP!

BUILD A FREE
SIGN UP SHEET
WE SEND OUT
EMAIL INVITES
PEOPLE SIGN UP
ONLINE 24-7
EVERYONE GETS
EMAIL REMINDERS

Coaches and Team Moms - organizing healthy team snacks just got easier!

No More Paper Sign-up Lists
Create an Online Snack Sign Up Sheet
Use Our Cool Basketball Templates
Parents Get Automatic Email Reminders
Parents Can Swap Snack Days if Needed
Never Be Without Game Snacks Again

SEE SAMPLE CREATE A SIGN UP

Learn more about how it works
Recruit and schedule basketball volunteers or staff quickly and easily!

Schedule Referees and Scorekeepers
Organize Concession Stand Workers
Create a Booster Club Sign Up Sheet
Recruit Volunteers for a Team Fundraiser
Schedule Picture Day Appointments
All Volunteers Get Email Reminders

SEE SAMPLE CREATE A SIGN UP

Learn more about how it works
Online sign ups can organize awesome basketball team parties and events!

Send Easy Email Invites and Get RSVPs
Plan a Team Pizza Party or Potluck
Schedule an End-of-Season Awards Banquet
Sign Up Tournament Volunteers & Participants
Create a Game or Tournament Carpool List
No More "Reply-to-all" Emails

SEE SAMPLE CREATE A SIGN UP

Learn more about how it works
Signupgenius has teamed up with hundreds of teams, schools, and leagues across the country to assists coaches, athletes and parents organize their basketball programs. There's no need to search further for basketball sign up sheet templates or to spend time building your own basketball snack sign up lists! With free online sign ups from SignUpGenius.com, you can create easy basketball sign up forms and organize your team parents in minutes!