1. Build a Custom Sign Up
Choose a design theme and enter the dates, times and slots for which you need people to sign up!

2. Invite Your Group
Use our email invites or send people the link yourself. Post on social media or your website to spread the word.

3. People Sign Up Online
Group members can sign up 24/7. We'll notify you by email when someone signs up.

4. We Send Reminders
Customize when reminders are sent. Members can receive them by email or text.
We had been organizing [volunteers] on Excel spreadsheets and sending out reminder emails manually, so this is beyond awesome!
Take the Tour
View Screenshots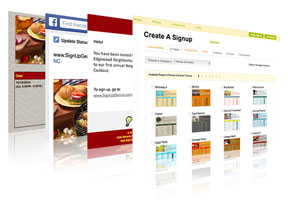 So packed with features, it's... well... genius.