Ho-Ho-Ho-liday Christmas Party Planning on a Budget!
Great Ideas for Using SignUpGenius to Plan a Fun, Festive... and CHEAP Christmas Party.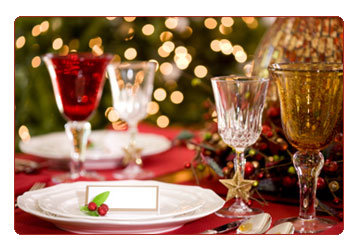 It's once again that time of year to deck the halls and celebrate with a joyous family and friends get-together. However, if the idea of hosting an expensive, impressive party seems great, but it's not in your budget, you can easily opt for something a little less conventional, but just as festive. With a little planning and a little input from your guests, you surely can come up with some innovative ideas for hosting a home, school or office party, holiday decorating, thoughtful gift giving, and much, much more.

One idea is to turn the age-old potluck party into a fresh new idea for the holidays. Whether it's a tried and true traditional menu or a Christmas smorgasbord, hosting a potluck can be a money saving, stress-free way to go, so you can concentrate on the finer things in life, like surrounding yourself with people you care about the most.

A potluck party helps you share the expense, share the work and share in your friend's family favorites. With a great plan, you can take the "luck" out of potluck and have a well-put-together holiday party, with the terrific variety of food you want, and that your guests expect. You and your friends may be inspired by a new holiday traditions, decorating ideas, and many other ways to instill joy throughout this season.
 
Let SignUpGenius help you Plan, Host and Enjoy Your Potluck for Free!
Whether the holidays find you hosting family dinners, parties for friends and neighbors or maybe even organizing the office potluck, SignUpGenius can coordinate your theme, invitations, RSVP's and help you plan the perfect party menu.

Start planning early with these budget-friendly tips and helpful sign-up suggestions that will make organizing your holiday event quick and easy.
 
---
Holiday Dinner Potluck
Host an elegant Christmas celebration and organize a sumptuous potluck meal. Timeless holiday traditions are best when they are generously shared among those closest to the heart. A perfect potluck ranging from traditional turkey with all the trimmings, to decadent desserts, creates a wonderful Christmas menu.

Your sign-up list could include:

Roast turkey or goose
Old fashioned chestnut or sausage stuffing
Creamy mashed potatoes or sweet potato casserole
Roasted asparagus, Brussel sprouts, parsnips or other root vegetables
Green bean casserole
Candied yams
Giblet gravy
Cranberry sauce or relish
Christmas eggnog
Christmas bread or plum pudding, pies or cheesecake

See Example Build a Sign Up
---
Cookie Decorating Party
Make special memories with a Cookie Decorating Party. This delightful idea will bring laughter and joy to any Christmas celebration. This party lets everyone share in the excitement!

Your sign-up sheet could include:

Sugar cookie cutouts
Gingerbread cookie cutouts
Pastry bags and tips
Different colors of icing
Flaked coconut and sprinkles
Gumdrops & chocolate chips
Mini-marshmallow & raisins
Macadamia or hazelnuts
Decorator candies
Spatulas, knives & toothpicks
Parchment paper or foil
Hot chocolate or warm apple cider
Decorator containers or Christmas themed bags
Photographer and/or video camera operator

See Example Build a Sign Up
---
Holiday Office Party
Planning an office holiday shindig is a fun way to get everyone in the Christmas spirit, but it takes a well organized team to put on a fantastic holiday show. Coordinating a bunch of volunteers can make an office party simple and stressfree!

Your office volunteer sign-up sheet could include:

Decorating the entrance
Table and bar decorations
Balloon arch
Volunteer to play Santa
Food & beverage coordinator
Games and gift coordinator
DJ & photographer coordinator
Party favors
Breakdown & cleanup crew

See Example Build a Sign Up
---
School Classroom Holiday Party
Being a classroom mom means organizing and coordinating a fantastic Classroom Christmas party. No more pen and paper signups, or waiting for forms to come back with the kids. Signupgenius sends out your classroom party invitations, decoration and food requests, & parent party volunteer needs all at the same time!

Your party sign-up form could include:

Classroom decorations
Candy canes
Cookies
Cupcakes
Hot chocolate
Create goody bags
Teacher's gifts
Gift exchange coordinator
Night before christmas storyteller
Party game coordinators
Arts & craft helpers
Cleanup crew
Photographer and/or video camera operator

See Example Build a Sign Up
Posted by Helena LaGarde
COMMENTS:
Posted by Lisa Kendall on Mon Dec 10, 2012 9:35 AM EST
I actually did the cookie decorating party as my classroom party and it was great fun! The kids really loved it and they had something they made to take home. Yum!
Report Abuse
Posted by Elyse Warner on Wed Dec 21, 2011 11:09 PM EST
potluck list
Report Abuse
Post Your Comment
NOTE: You do not need an account to post. For the ability to delete, create an account.
Organize Your Party Online!
| | |
| --- | --- |
| | BUILD A FREE SIGN UP SHEET |
| | WE SEND OUT EMAIL INVITES |
| | PEOPLE SIGN UP ONLINE 24-7 |
| | EVERYONE GETS EMAIL REMINDERS |
Recent Home & Family Articles
Plan the Perfect Picnic
Pack up those delicious sandwiches, side salads, drinks, and desserts and head outdoors for a refreshing summer meal.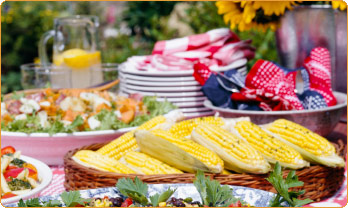 A Summer BlockBuster
Host a Kid Friendly 4th of July Picnic