College Move-In Day: Tips for Making a Smooth Transition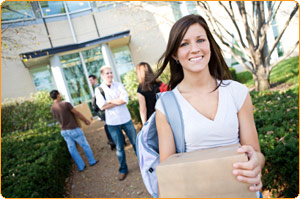 Week one of college is likely the most overwhelming week you'll experience in all four years. Between orientation, meeting new people, locating buildings, and finding places to eat, you've got to find time for the most crucial task in making campus your home away from home: MOVING IN! But it's all worth it because, well, your going to college! Don't let the excitement trick you into not preparing for the big move. Move-in day is a day you want to be prepared for. Read on for tips to create your new living space.
Know Your Space
After you receive your dorm and roommate assignment you'll want to know what kind of space you have to work with. Dorm rooms tend to be on the compact side, but you'll find that if you do your research in advance and figure out your room dimensions before the big day, you can plan accordingly and make a little space go a long way. Usually, there will be a "Residence Life" or "Campus Life" section located on your school's website where this information will be available. Have fun dreaming up your ideal setup; this will be your new home for at least a year.
Roommate Bonding
Sometimes students already know the person they will be rooming with, and other times it's completely random. Either way, you'll want to call your roommate so that you're both on the same page before you arrive at school. Some common items (but not all essential) to divvy up include: TV, mini fridge, microwave, water filter, DVD player, and maybe even a game system! Contacting your roommate before school is also a great way to start to get to know your living partner and talk about fun design ideas or a killer entertainment set-up. Some embrace color chaos, others color coordinate! Whatever decision you make, be considerate, and make it together.
Arrival Time
One word, three times for emphasis: EARLY, early, early! You want to try your best to beat the traffic coming into campus, not to mention the congested parking lots. There are likely to be thousands of students all arriving at the same time so chaos is an understatement on this day. Some choose to even arrive a day early and stay nearby in order to save time and gas that would be lost in all the stop-and-go traffic that WILL occur on move-in day. But remember, if you do arrive before your roommate, be considerate. Don't make any permanent decisions without discussing it with him or her first since the space belongs to both of you.
Move-In Assistance
Once you arrive on campus you'll probably find lots of students with matching t-shirts and exuberant smiles on their faces. They may even be saying, "Welcome!" Why? That's their job! Don't be shy; these are just your friendly orientation leaders ready to help you move-in. They will sign you in, show you to your room, and help you carry up any of your things. If you have bunks or lofted beds, they can help situate those as well. Any missing furniture or other discrepancies? Let one of these kindly individuals know and they're sure to take care of it.
Saying Goodbye
It's easy to get wrapped up in the sights and thoughts of your first day at college, but in all the craziness, don't forget about those lovely people that made YOU possible. That's your parents in case you forgot! This will probably be the last time you'll see them for awhile, and though you may not notice until they're gone, their absence will be noticeable through this lifestyle change of yours. So, make your goodbye a good one. While you're at it, throw in a thank you for helping you get this far.
Now that you know some logistics, remember the basics. Breathe. This is an exciting time in your journey, and you may be dealing with some nerves. Here's the great thing: you're not alone! It's doubtful any other freshman is breezing through this life milestone with complete ease and calm. You're all in the same boat, sailing into some foreign territory, so use the worry as a conversation starter. You're bound to make yourself, and a new friend, feel more at home.
Posted by Justine Vadini
COMMENTS:
Posted by charles gardner on Fri Jul 22, 2011 4:20 PM EST
thanks for the great tips. my young friends and their parents will enjoy this.
Report Abuse
Post Your Comment
NOTE: You do not need an account to post. For the ability to delete, create an account.