SignUpGenius Helps One Man Ensure that Others Don't Die Alone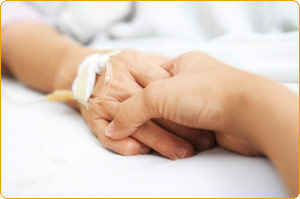 Mark Garascia loves his volunteer work as a dispatcher for the ministry of "No One Dies Alone." Because he is willing to coordinate volunteers to sit at the bedsides of dying patients at a local hospital, he knows that fewer people in his community will spend their last hours alone.
"Personally, I had a grandmother who died in her mid-90s who outlived her children. She had two grandchildren, but she was in an alzheimer's institution about 30 minutes away. She could have died alone." Thankfully Mark and his brother were able to make sure that didn't happen, but the experience impacted him enough that when his local parish presented the option of starting a "No One Dies Alone" ministry, he stepped up to the challenge.
Two years later, Mark had 30 volunteers to coordinate every time he received a call from the hospital that a patient was in need of their care. "It was a lot of work. It took me a few hours to call volunteers and arrange a schedule for volunteer support for each patient. I spent a lot of time playing phone tag."
Then one day, Mark heard from a volunteer that there was this great site that would make it simpler to organize signups like theirs. Thanks to that volunteer and SignUpGenius.com, Marks job as a dispatcher was about to get a whole lot easier. Mark went through the tutorials on the site and realized how much simpler his position could be by using the volunteer sign ups available on the site.
But there were still the hospital and volunteers to convince. Hospitals are restricted by the HIPPA Privacy Rule to a strict standard of patient confidentiality. The hospital staff wanted to check out the site to make sure its use wouldn't violate that confidentiality. When the staff saw the privacy policy of SignUpGenius and realized that there are multiple security options to ensure the privacy of patients, they were happy to give their approval. And the volunteers themselves found the site easy to use. "That says a lot because many of the people we have volunteering are retirees and not very computer savvy. The ease of its use helps a lot," explains Mark. He adds, "Now it takes less than five minutes to set up a sign up, and is enabling the program to progress."
Beyond the time it saves Mark to coordinate volunteers and the ease of using the site for his volunteers, he appreciates the ability to modify the sign ups at anytime and notify the volunteers instantly. When a patient dies, he can notify all of the volunteers who were signed up with the news via an automatically generated email. He can also archive the sign up, so the ministry can keep a record of every patient they have served.
Mark now coordinates 65 volunteers and tells others who are considering becoming a dispatcher and starting a "No One Dies Alone" ministry in their area that they need to check out SignUpGenius. "I tell everybody about it when I see anyone doing a sign up," he says. "Everybody involved in the No One Dies Alone Program is a volunteer and making it efficient for them is critical. The site being so simple for new volunteers is great."
That's our goal at SignUpGenius, to provide you with a tool that makes coordinating sign ups simpler, so you can get on with the important things in life. It's genius!
Posted by Angel Rutledge
COMMENTS:
Posted by Angel Rutledge on Fri Jul 19, 2013 11:29 AM EST
Bill, if you look through the posted comments right below yours, you can contact a coordinator for No One Dies Alone to receive more information about starting a program. Thanks for being willing to start such a great program!
Report Abuse
Posted by bill Jeffries on Thu Jul 18, 2013 9:39 PM EST
I am very interested in learning how to set this up for a church group. I can see several uses for it. So please have someone send me contact info. tks B
Report Abuse
Posted by Mark Garascia on Sat Apr 13, 2013 12:14 PM EST
Tracy, I can e-mail you our sign-up genius instructions. It details out how we create a sign-up. You can call me at 313-805-5918 and leave your e-mail address so you don't have to post it.
Report Abuse
Posted by jim wagener on Fri Apr 12, 2013 8:54 PM EST
Tracy, Mark Garascia does our set ups. I will e-mail Mark to see if he can do a post. I hope the program works well for you. The vigil coordinator is a key component of the NODA program. Keep up the good work.
Report Abuse
Posted by Tracy Roundy on Fri Apr 12, 2013 4:31 PM EST
Jim- I also am a volunteer for the NODA program and a vigil coordinator in Spokane, WA and we are working to use this wonderful program to create a volunteer sign up sheet, With all the different styles/themes, I am curious, as to how you guys set your sheet up. Thank you
Report Abuse
Posted by Sherry May on Wed Dec 12, 2012 1:37 AM EST
I think the work your bringing to the people is wonderful and my family would be honored to help in anyway we can. Thank you for bringing this to the people. No one should ever have to be alone on their death bed .all you want in your time of need is a hand to hold and to not be alone. I know cause aug 208 d n the nursing home to say their good byes I felt like I was dieing and I was scared all i wantedsomeoneby my side . I'm just happy I pulled through and my prayers was answered. So this is a very good thing you are doing and the children these days really need program's like this one to make them understand that life is to short and very valuable. so live it to the fullest you only have one.so thank you from the bottom of my heart love always sherry may.
Report Abuse
Posted by Peter OConnor on Tue Aug 7, 2012 6:13 PM EST
I am interested in this ministry, I will pray on it more to see if would be something for our church. Keep me posted.
Report Abuse
Posted by Dan Rutledge on Mon Mar 14, 2011 8:55 AM EST
Thanks for the kind words Jim. You and Mark and your fellow volunteers are doing eternally significant work and we are honored to be able to help.
Report Abuse
Posted by Jim Wagener on Sat Mar 12, 2011 2:54 PM EST
I am a volunteer in the No One Dies Alone program and love the ease of using the SignUpGenius.com program and am pleased that Mark made it available to volunteers.
Report Abuse
Post Your Comment
NOTE: You do not need an account to post. For the ability to delete, create an account.