Why Another Blog?
I know. I know. If there's one thing the world doesn't need, it's another blog, right? Your sister has one… your best friend has one… your kid has one… even your pet hamster has one. Enough already.
I can relate. I confess that I've been a bit of a "blog-basher" in the past… and when it comes to blogs, I've definitely been out of the loop (or do you say "bloop"?). One time I was leading a church prayer group and I asked our members to share prayer requests. We were going around the room sharing requests and one woman actually said to me, "Just check my blog." I nodded politely… and then immediately wrote "blog addiction" down on the prayer request sheet.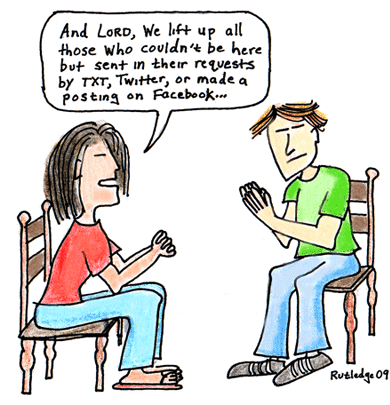 After that night, I went out and bought a T-shirt to wear to church. It read: "More people have read this t-shirt than have read your blog." I thought it was hilarious. And then I gave it to my wife to wear…. cause I was a little scared of what Miss Blog Addiction might do to me… even at church. Never mess with a mom and her blog.
Anyway… so why bother with this particular blog?
Well… a year and a half ago, I helped launch this fun little site SignUpGenius.com. It was birthed out of my own frustration in trying to plan, organize, and coordinate groups and events. I built the site primarily because I desperately needed a tool like this so I didn't lose my own mind! But after it was built, a funny thing happened. People all over the country started using it… a lot.
It's been fun to see it grow. And it's been really neat to interact with users all over the country – organizing Type-A Planners, just like me – who are looking for a better way to organize their church, school, family, or sports group. I've enjoyed great email dialogues about possible SignUpGenius enhancements, had people ask me about sign up and event related resources, and even been sent fun stories of what people have used SignUpGenius for. The users of SignUpGenius have become a little "community of planners" to me – a brotherhood of in-the-trenches people dedicated to organizing the world.
So… Planners of the World, Unite! This blog is for you. I'll be keeping you up to date on the latest SignUpGenius upgrades, sharing thoughts related to leading groups & events… and occasionally just rambling on technology and family-life topics that crack me up.
So check back when you can. If you're anything like me… you'll probably end up reading the blog on your phone while simultaneously eating dinner, driving to a church event, quizzing your kids on their homework, listening to the radio, and writing out a to-do list on the steering wheel.
And… I promise to be more interesting than your hamster.
Posted by Dan Rutledge
Posted by Dan Rutledge on Tue May 21, 2013 11:28 AM EST
Hi Patti. Please write us via the "help" tab at the top of our site and we'll be happy to assist and get you going for the fall. Thanks!
Posted by Patti Sieve on Tue May 21, 2013 11:25 AM EST
I'm trying to post an online signup for the fall, they need to sign up from Sept. 15, thru Oct. 20th. I don't want the individual days. How do I do this.
Posted by Dan Rutledge on Thu Oct 4, 2012 10:58 PM EST
Hi Julie. Thanks for your comments and welcome to SignUpGenius! We hope we can save you some time. We actually used to have shorter and simpler web addresses for the sign ups... but we ran into two problems with them: 1) our site quickly grew so large that all the common words were taken and 2) because almost all the common words were taken it was very easy to guess and type in sign up addresses which posed a security/privacy risk for many users that worried about who might find their sign up. I know a number of people miss it, though, so we may try to go back to it in the future as an option for those that aren't worried about privacy/security - but for now we've kept things very safe. One tip - if you are not using email invites, consider shortening your url with a url shortening service like http://goo.gl or http://bit.ly - hope that helps!
Posted by Julie Moore on Thu Oct 4, 2012 10:45 PM EST
I just tried Sign-Up Genius and I love it. Just one thing would make it better for me. Let us make the address link something memorable to our elist groups. Right now, no one would ever type that long address in. I know you want people to send emails and have others respond, but thats not the only way to contact people. There are other reasons this would make your product more user friendly. Just saying...
Posted by Dan Rutledge on Sat May 14, 2011 7:10 AM EST
Hi Will. Thanks for all your blog comments. Hope you enjoyed the blog and that our service is useful for you!
Posted by Will Null on Fri May 13, 2011 4:30 PM EST
Dan, are you on?
Posted by Dan Rutledge on Mon Feb 21, 2011 8:03 AM EST
Thanks Robin! Appreciate you spreading the word about us! We're working hard to make sure it gets more and more useful for you. Have a great week and thanks again.
Posted by Robin Smith on Sat Feb 19, 2011 7:29 PM EST
Love Signup Genius. In the fall I did a workshop on it to all the secretaries in my school district. I also recommended it to some teachers and have posted about it on facebook and on my blog. Great product and very easy to use.
Posted by Tracey Henley on Fri Sep 10, 2010 1:50 PM EST
Dude, you didn't know my hamsters! Still, I love SignUpGenius! Long may you prosper!
Post Your Comment
NOTE: You do not need an account to post. For the ability to delete, create an account.